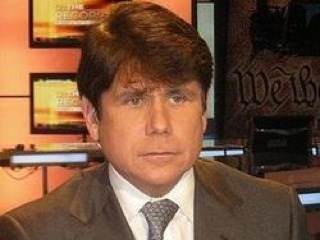 It has been a long time since we have heard from deposed Illinois governor Rod Blagojevich, who attempted to turn his extensive health care program into a more robust state machine by raising funds through the sale of President Obama's "f*cking golden" Senate seat. With this plan thwarted and the drama of his trial long behind us, Blagojevich recently revealed through his attorney that he was interested in teaching Shakespeare in jail, but the Chicago Sun-Times reports today that he is now "bored out of his skull" because he has been kept on dishwashing duty and not allowed to teach.

RELATED: Watch: Rod Blagojevich Goes To Prison, While 'Keeping Signature Attitude'
The report of Blagojevich's alleged boredom comes from the former attorney, Sam Adam, Jr., who stopped by to visit:
Former Gov. Rod Blagojevich, 55, who seemed to optimistically bound into prison three months ago, is bored out of his skull. "He's totally bored," said Blago's former attorney, Sam Adam Jr. "He's still working in the kitchen doing the pots and pans … and what he'd really like to do is teach," said Adam. The buckshot: "But (the prison) has yet to do the switch," Adam told Sneed.

Translation: It's now past the federal prison's rule of new inmates being assigned menial tasks for a the first 90 days. Blago, who wants to teach Shakespeare or ancient Greek philosophy or mythology, entered prison March 15 to begin serving his 14-year sentence.
The report concludes that the entire Blagojevich family is "still very distraught," as wife Patti is selling insurance to maintaining a certain lifestyle for their children. No word on whether Blagojevich will soon be put to the teaching of literature he so vocally (vicariously) desires.
Have a tip we should know? tips@mediaite.com