WATCH: Top Chef's Malibu Chris Inexplicably Drowns in Honeys on Eat, Drink, Love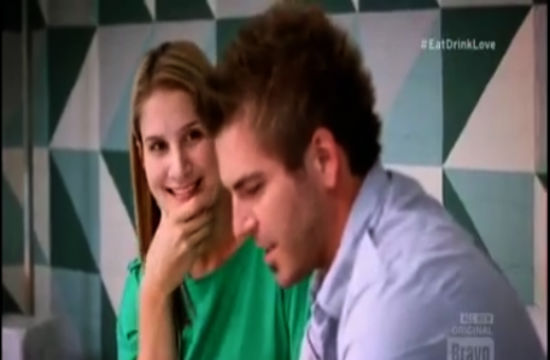 You may recall that there was a time when we were super confused about why Bravo kept trying to make Chris "Malibu Chris" Crary A Thing, long after his lukewarm stint on Top Chef: Texas (which did win him Fan Favorite, in fairness). Now it's clear to us that he probably just flirted the good sense off a couple of Bravo execs, because apparently, in the presence of his gently tousled hair, everyone loses their goddamned minds.
See: last night's installment of Eat, Drink, Love, in which the gut-wrenching "love triangle" between Chris, publicist Brenda Urban, and Eater LA editor Kat Odell began to unfold. Malibu is playing every honey on the PCH, and, were we to predict who ends up getting hurt, it breaks our hearts to guess Brenda. It's pretty clear that he schmoozes her for the good PR, while he's schmoozing Kat for…something else entirely. But poor Brenda is so obviously in Legitimate Crushland, while Kat is in Let's-See-If-I-Can-Just-To-Say-I-Did-land, which is bringing up a lot of high school feelings for us, and ugh, the whole thing is just so hard to watch.
Chris! Be a better person. Brenda! Stop going after boys who are too immature for you. Kat! Your friend called dibs (or, at least, is about to in next week's episode); observe girlcode, please.
You can hate both the player and the game, in four parts, below.
RELATED:
WATCH: All the References to Weight, Plus an Epic Slut-Shaming From Bravo's Eat, Drink, Love Premiere
LA Weekly & Eater Founder Get Into It Over Kat Odell's Portrayal On Eat, Drink, Love
Have a tip we should know? tips@mediaite.com