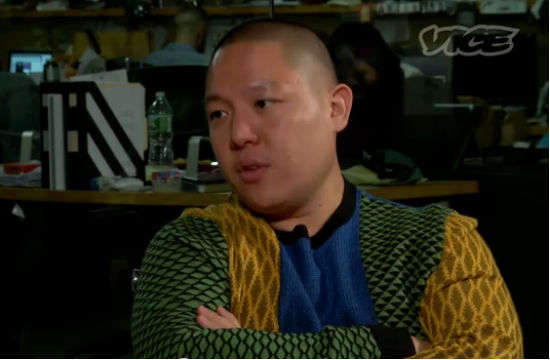 What have you done this weekend, people? Partied at the pool? Ate too much at barbecues? Whipped something up for party guests? Slept in? While you were doing all that, Eddie Huang was taking on casual racism by a little well-known Fox News pundit (maybe you've heard of him, this Bill O'Reilly character?) and writing book reviews for the New York Times. Someone is winning this weekend more than you are.
Huang took to his blog to take on O'Reilly, who recently decided to just lose his f*cking mind talking about white privilege. Thank God for Huang to shut him down in a neat five points about the Asian-American experience, and how it compares to the African-American experience in this country. "To take certain aspects of Asian American 'success' in the eyes of dominant culture and compare them to African American progress in those same fields has NOTHING to do with white privilege," Huang writes. "It is actually further evidence of white privilege that the conversation is even framed this way on AMERICA'S NUMBER ONE CABLE NEWS SHOW." Oh, BOOM.
Perhaps even more eye-opening is Huang's take on the differences between first-generation and second-generation cultural conditioning and discrimination, by describing some of the differences between his parents' childhood and his own.
"My parents faced hardships as adults, but they didn't get exposed to the systematic cultural conditioning and discrimination that you face as a person of color growing up in this country. They know who they are, they have their identities, and their self-confidence was fostered in an environment where being Chinese didn't automatically mean you were going to get dunked in the trash can after school.

When my Dad read my book, he had no idea that I had been forced to use my right hand, forced to eat soap for not believing in Jesus, held out of class until I let Jesus into my heart, and told to sit in the back of the class, be quiet, and do math like the other Asian kids. This all happened to me. This probably happens to all people of color in America in some way, shape or form. We are the other and it is made very clear to us early on."
It's powerful words from a man redefining success on his own terms. Not that he's used to anything else; thanks to his new sitcom pushing him into the spotlight, we're positive that Huang will be called in many more a time to patiently explain racism to the unknowing.
And then he reviewed a comic book for the New York Times featuring "the first Asian-American superhero." The book The Shadow Hero may be the best way to learn about Chinese culture: "What America needs is for people to shed the expectation of translation and immerse themselves in other worlds. It's O.K. if you can't pronounce ma po tofu, it's O.K. if you can't pronounce my last name and it's O.K. if you learn about our ways through graphic novels. America has to start somewhere, and I'd recommend 'The Shadow Hero.' Soon enough, it'll all be familiar."
This guy is on it.
[The Pop Chef, The New York Times]
RELATED: WATCH: Eddie Huang Patiently Explains Reclamation to the People at TIME
ABC Orders A Full Season of Fresh Off the Boat
Eddie Huang To Host Cable News Show With Meghan McCain and Jacob Soboroff
Have a tip we should know? tips@mediaite.com