Frozen Supermarket Meals Healthier Than Recipes From Nigella Lawson And… Jamie Oliver?!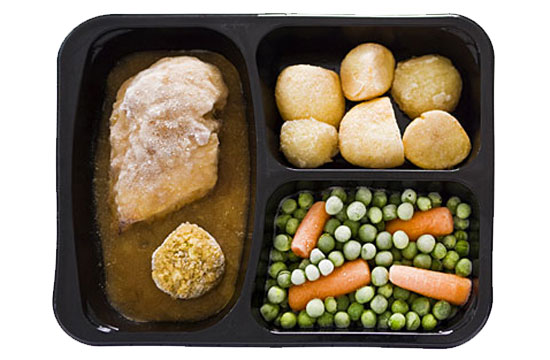 While the food world reviles frozen supermarket meals as the realm of the weak, inept, and college-y people of this world, a recent study from England's Newcastle University found that those meals might be healthier than those of Britain's most celebrated celebrity chefs. Unsurprisingly, the study dinged Nigella Lawson, she of the infinite cream — but shockingly, the recipes of prominent health king Jamie Oliver were called out as well.
The study examined 100 recipes from 30 of England's most beloved cookbooks, authored by many of the country's top celebrity cooks and homemakers, and compared them with 100 randomly selected brand-name frozen dinners from many of the country's top supermarkets. The results: while neither of the options met any sort of criteria for a balanced diet, the celebrity chef recipes contained far more "energy, protein, fat and saturated fat and significantly less fibre than the ready meals," according to the Guardian.
We're getting fat just thinking about it, and we're going to balloon when we see the following comparison. The unhealthiest frozen meal in the study was a Tesco's chicken tikka masala and pilau rice with 870 calories. (The fattiest was cauliflower cheese at 21.3g.) In contrast:
Oliver's 30 Minute Meals recipe for meatball sandwich, pickled cabbage and chopped salad, for four people, is just under 1,000 calories per serving. His mini shell pasta with a creamy smoked bacon and pea sauce from Ministry of Food has 125g of fat and 63g of saturated fat. Lawson's beer braised pork knuckles with caraway, garlic, apples and potatoes has 1,340 calories per person and 102g of saturated fat.
Does anyone have a ballpoint pen? We need to perform a very crude liposuction on ourselves after reading that.
Oliver's representatives told the Guardian that they were already aware of the nutrition discrepancy, pointing to the nutrition-based focus in his latest book 15-Minute Meals and his other work in his other Jamie Oliver Life. Lawson had no comment.
Have a tip we should know? tips@mediaite.com