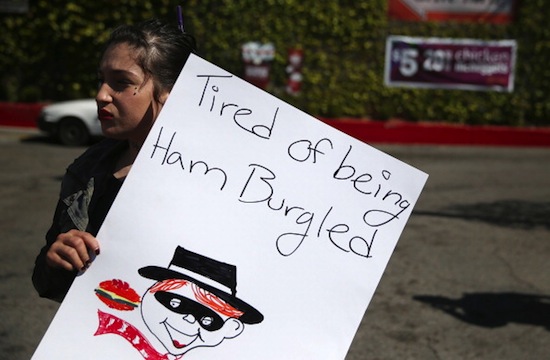 In case you haven't figured it out already, there's a lot of reasons to hate on the fast-food industry. While the movement to raise pay for fast-food workers to $15 per hour has been slowly collecting steam for the last year, supporters are now uniting for a global strike planned for May 15.
Fast Food Forward, the group behind the strikes, announced the global strike last week at a midtown Manhattan McDonald's. USA Today reports the date has symbolic significance, for the $15 per hour workers are seeking. The strikes will impact more than just the McDonald's chain; workers from KFC and Burger King will also strike the same day.
The mass strike will take place in six countries, says USA Today (the Wall Street Journal reports up to 33 countries), but no one's quite sure how many workers will strike out of the millions employed. Of course, McDonald's is all over it, reports the Wall Street Journal. According to an email obtained by the WSJ, the McD's HQ is prepared for "on ground activity." It's particularly great timing, considering the McD's shareholder meeting is May 22. According to the WSJ:
In its latest annual report filed with the Securities and Exchange Commission on Feb. 24, McDonald's listed among the risks to its growth in sales and profits: "The impact of campaigns by labor organizations and activists, including through the use of social media and other mobile communications and applications, to promote adverse perceptions of the quick-service category of the (informal eating out) segment or our brand, management, suppliers or franchisees, or to promote or threaten boycotts, strikes or other actions" involving McDonald's or the industry.

In the e-mail, McDonald's Ms. Barnett applauded the franchisees who "come together like no other to serve our customers, especially when faced with challenges."
Uh yeah, but nothing for its workers, right?
[USA Today, Wall Street Journal h/t Foodbeast]
RELATED:
Arby's Testing 'Artisan Melts,' Obliterating the Meaning of Artisan
Subway Pays Its Employees The Lowest Wages in Fast Food
Shake Shack Pays Employees a Living Wage, Offers Full Benefits, Stays in Business
Have a tip we should know? tips@mediaite.com