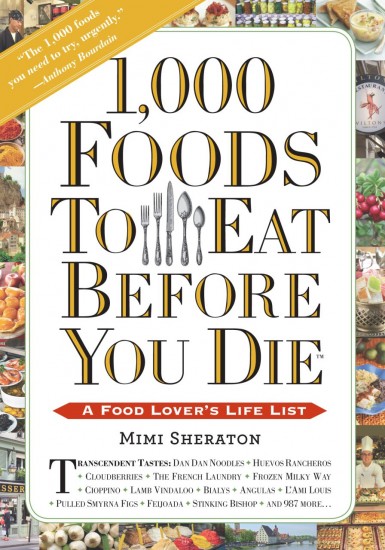 Today, former New York Times restaurant critic Mimi Sheraton turns 90. Her career can only be described as legendary. And, she's still going. Her most recent book, 1000 Foods to Eat Before You Die came out in 2015 and is being printed again soon. In honor of this milestone birthday, we decided to take a look back at her life and work.
Sheraton attended NYU, where she majored in marketing and journalism. After college, she became a home furnishing copywriter, and eventually was certified as an interior designer. She worked for Seventeen Magazine as their home furnishing editor, a position for which she traveled often. And, as tends to happen, all of her travel sparked an interest in food.
In December, 1975, the New York Times (ever heard of it?) hired her to work as a food critic. She was the first female critic for the paper (bad ass), and she stayed there for eight years.
In 1983 she branched out and wrote for magazines including Vogue, Harper's Bazaar, Condé Nast Traveler, and Time. She's published a whopping 16 books. 1000 Foods to Eat Before You Die is an epic bucket list for any food lover. If you don't have a copy yet, get one.
You can also find Sheraton on Twitter, posting super short reviews:
Gorgeous at Nomad:Cured fluke with saline,astringent notes of uni&blood orange;roseate venison,honeyed squash,opulent coffee granita.

— Mimi Sheraton (@mimisheraton) February 10, 2016
And also gems like this:
Bill Clinton looking & sounding hollow & emaciated. Result of becoming vegan?
Needs a burger or two.

— Mimi Sheraton (@mimisheraton) February 8, 2016
Give her a follow. We'll take any piece of advice that involves eating a burger or two.
We caught up with the food critic and personality earlier this week. Of course, the first thing we wanted to know is who are her favorite chefs, past and present? They are:
Andre Soltner, the chef of Lutece, a beloved French restaurant in New York City which has now closed.
Antoine Magnin, a popular french chef who died in 1987.
Ferdinand Point, a French chef and restaurateur who died in 1955. He was considered the founder of modern French cuisine.
Sandro Fioriti, of Sandro's, an intimate Italian restaurant on New York City's Upper East Side.
She also loves some of the usual suspects, including:
Daniel Boulud
Alain Sailhac (International Culinary Center)
Jean-Georges Vongerichten
Thomas Keller
We also had to know her favorite condiment. She said salt, pepper, and garlic (if they count), but also gave us a recipe for her elevated take on regular mayo. It's simple, you already have the ingredients in your fridge, and you'll kick yourself that you didn't think of making it sooner. Here's how you make it: Take Real Hellman's Mayonnaise, add lemon juice, a bit of olive oil, and a touch of dijon mustard. Swirl it all together, and voila, you've got a different condiment. So simple, so good.
Happy 90th, Mimi Sheraton!
Have a tip we should know? tips@mediaite.com