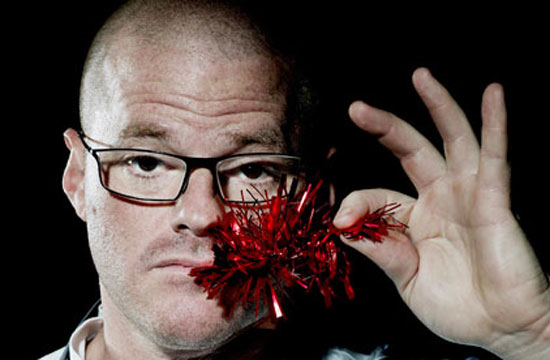 Okay, we cannot write this story straight. At all. We love you, Heston Blumenthal, and we hold a deep and abiding respect for your whimsy and childlike wonderment at the marvels of the world, which probes deep into the secrets of cuisine and strains to hear the faint echoes of science.
And then you decide to create an edible Christmas Tree for December, and we're torn between nodding our heads in respect or falling over in giggles.
This will be the first time that The Fat Duck plans on serving a Christmas Dinner, and here is how The Telegraph describes the dinner, served only on the first three Sundays of December: "The Christmas Tree dish will be a festive tree at the centre of the table. The tree will by hung with edible glass baubles, one of which contains prawn cocktail and another of which contains pig's head terrine. The tree will also be decorated with edible tinsel."
It is in this dish that Mr. Blumenthal hopes to spark the diner's imagination, giving them the perspective of a naughty dog who ate your Christmas decorations.
Also included on the menu: edible snow, "Gold, Frankincense, and Myrrh", something called "Advent," and a dish called "Like A Kid In A Candy Shop," which we seriously hope is not what it sounds like.
Would anyone in England like to tell us how this goes? We mean, you're going to have to pay the £300-per-diner bill ($475 in Murrica money) for yourself, but it's a small price to pay to find out what it looks like when humans eat tinsel.
[The Telegraph via Eater]
Have a tip we should know? tips@mediaite.com