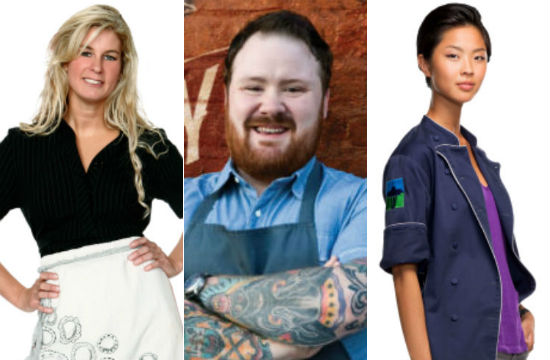 Starting in Season 6, Top Chef: Las Vegas began a fresh twist on the show's competition format that stuck: cash money muthaf*ckin' prizes. Sure, the ultimate prize was always the $125,000 title of Top Chef. But shooting a season is a grueling 6-week process. Sneaking in a $10,000 – $15,000 cash prize every other Quickfire was good for morale, and imbued chefs with a renewed sense of competitiveness whilst whittling the pack around them down to the finalists.
For example, while Kevin Gillespie lost out on the title during his season, he won fan favorite, and was touted as having won more money than any other Top Chef-testant in history. He's since been dethroned (after a considerable reign), but it got us thinking: what are the actual Top Chef power rankings? Who's racked up the most money of all time? And how much money has been given away over the years?
After being reduced to glorified data-entry slaves, we crunched the numbers and came up with the 13 highest-winning chefs to date in the show's 12-season history. You may be surprised by how much dough (pun intended) a losing Top Chef chef-testant can walk away with.
A few notes before we begin: while we're sure winning entire monogrammed GE appliance suites and several-thousand-dollar sashimi knives is fun, there was no way for us to monetize those kinds of prizes. And since The Magical Elves only began giving out cash prizes in Season 6, you may notice that Seasons 1-5 alums are largely underrepresented in this list. We're sorry. In Season 13, for the most part, they stopped giving out cash prizes. Jeremy Ford won an oven valued at $16,000, and Wesley True had $10,000 donated to World Central Kitchen in his name, but that was it.
Also, we made the executive decision to combine the winnings of any given chef across all seasons on which they appeared, which means that All-Stars or Duel winners have a bit of an advantage. (But not much: there's only one All-Star in the top four.) And we also didn't take into account the "fan favorite" monetary incentives, because, well, we don't think it's fair for people to be paid just because they're likable. In that case, we'd be millionaires. (OK, there's more reason than that, but more often than not a $5,000 or $10,000 fan favorite prize just wasn't enough to make it on the list). Lastly, our totals for each contestant come in before any Top Chef titles are awarded — this is strictly based on Quickfire and elimination challenges alone.
Check out the slideshow below and count down with us to the highest-winning Top Chef-testant of all time.
Gallery unavailable
Editor's note: This story has been updated since its original publication in 2013.
Have a tip we should know? tips@mediaite.com