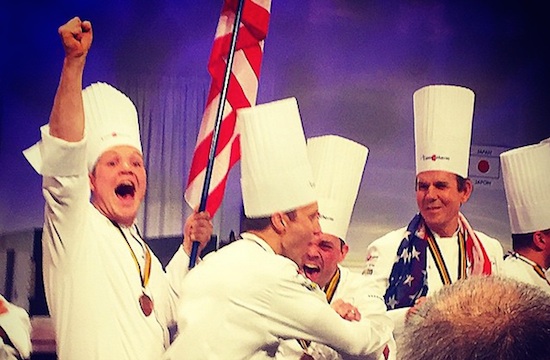 Proving once and for all that America can still reach the top.
No seriously, Team USA's silver medal at the 2015 Bocuse D'Or is a big f*cking deal. As the Los Angeles Times notes, this is the first time Team USA has cracked the top five spots at Bocuse D'Or; the highest honor Team USA has received is sixth place in 2009.
© Photos Le Fotographe #Bocusedor pic.twitter.com/F6ncpZP7MV

— Bocuse d'Or Official (@Bocusedor) January 29, 2015
While Grant Achatz, Daniel Boulud, Thomas Keller, Jerome Bocuse and ultimate wunderkid Gavin Kaysen played as integral coaches for Team USA, it was French Laundry chefs Philip Tessier and commis Skylar Stover who brought the silver home. Curious what brought home the medal? A description of the dishes, thanks to a press release:
Team USA competed on January 27 and presented the acclaimed panel of judges with a stunning meat platter of Barrel-Oak Roasted Guinea Hen with sausage of guinea leg confit, white corn mousse, and black winter truffle, accompanied by a "Garden of Sweet Peas" an edible "Beehive," Black Truffle Consomme, White Corn "Nest," and Preserved Chanterelles. The gorgeous fish plate showcased Brioche-Crusted Brown Trout Pave with American caviar, tartelette of crisped skin, garden dill, celery branch "Farci," celery root puree, compressed apples, brown butter emulsion, and smoked mushroom consomme. Both the meat platter and the fish plate were designed by the lauded Martin Kastner.
Kaysen was a proud papa during the whole competition, and so was Keller.
Oh, and the other winners: Norway took home gold, and Sweden took home bronze (proving that we're going to be doing the whole Scandinavian/ Nordic thing for-freaking-ever at this point). It was also the first year that France did not place in five years (proving that French cuisine, as everyone predicted, is officially dead); last year, France won gold.
What does Bocuse D'Or really mean, anyways? Why should we care what some fancy white hats do anyways? Because it shows just how very far American cuisine has come. Two years ago, even Boulud readily admitted that Team USA got outcooked by its competitors. "We deserved the place he got," he told us when talking about the 2013 Bocuse D'Or. Boy, have things changed now. From a statement from Keller after the 2015 win:
"… American cuisine has significantly progressed in recent history, and Chef Tessier's talent is an example of the strides we are making in our field. Our hope is that America continues to support our endeavors to showcase what great chefs and cuisine we have in the United States."
Boom! Mazel tov, Team USA!
[Los Angeles Times, Instagram, PR Newswire]
Have a tip we should know? tips@mediaite.com