Last Call: Anthony Bourdain Wonders Aloud How And When Guy Fieri Will 'De-Douche'?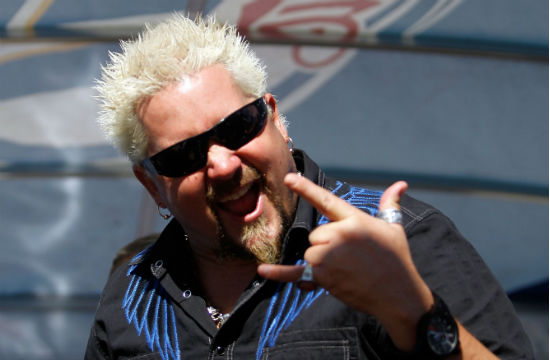 Baltimore Sun: Among Anthony Bourdain's many concerns about Guy Fieri is whether the man will "de-douche" as he grows older. Bourdain, for example, had to mature his look after the birth of his daughter (he's in a self-described "Cosby phase"), but what about Guy? "Does he do it all at once?" he asked on the Baltimore leg of the Guts and Glory tour. "Or does he do it gradually over time? The hair grows out, he starts spelling 'kewl' with a 'C.' Do the glasses on his neck finally, slowly, start to move forward?" We can't remember the last time someone asked this many rhetorical questions about Guy Fieri.
Jim Romenesko: In homage to (and commiseration with) Pete Wells, Romenesko put together a round-up of the nation's most prominent food critics and asked them to recount their most threatening responses to poor restaurant reviews. As far as we know, no hits have been taken out against Pete.
Eater: Magnus Nielsson — Food & Wine darling, Tom Colicchio biffle, source of intense envy for Richard Blais, butt of Swedish Chef jokes, and executive chef of Fäviken — recently gave a Google talk on (wait for it…) vegetables. Specifically on how he spends 50% of the restaurant staff's time sourcing produce locally. Why so jealous, Blais? You spend 50% of your time getting kissed by Fabio Viviani. Same thing, no?
Riding Shotgun: It's Roy Choi poetry day, and this installment, which takes a dark look at fine dining, includes a Thousand Island Dressing recipe at the end. We wish all poems came with recipes!
Today Show: Art Smith tried in vain to share some of his best turkey tips with viewers on The Today Show this morning, but, unfortunately, he booked a Fourth Hour slot, which meant he was competing against sloshed anchors. Kathy Lee Gifford bogarted the segment when she realized she was a master chef after her correct use of the term "rub."
Food Republic: CBS Sunday Morning aired their annual food episode yesterday and Food Republic boasts 12 of the best clips, featuring adorably old-person-geared approaches to weed cuisine, Wylie Dufresne explaining flavor profiles, and Wolfgang Puck explaining foodieism. Excuse us, we're going to go hug our remaining grandparents.
Have a tip we should know? tips@mediaite.com