Last Call: And With Pete Wells' NYT Review Of Amanda Cohen's Dirt Candy, The World Spins Madly On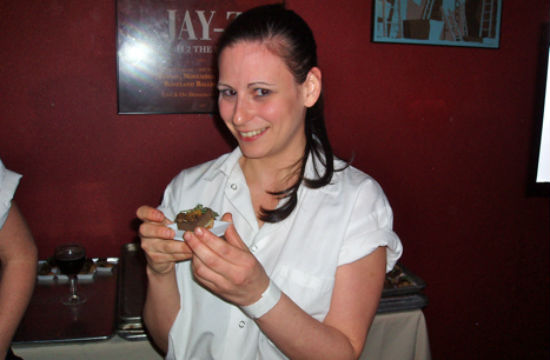 New York Times: The ever-hilarious Amanda Cohen was reviewed by Pete Wells in the New York Times today for her East Village restaurant Dirt Candy, and he cited her hilarity as he doled out two stars. We're glad he appreciates her sense of humor, but man do we feel sorry for the restaurant that had to follow Fieri-gate in the reviews section.
Twitter: According to Bloomberg critic Ryan Sutton and Eleven Madison Park's receptionist, the restaurant has done away with its innovative grid menu, and instead is just serving straight chef's selections. We trust Daniel Humm implicitly, but we have to admit, we're nervous that their chances of taking the #1 World's Best Restaurant spot just tanked…
Big Hospitality: Jamie Oliver is opening two outposts of his chain restaurant Jamie's Italian in Moscow and St. Petersburg. What could possibly go wrong serving Mediterranean fare which hinges on the freshness of its ingredients in the dead of Russian winter? Nothing.
GrubStreet: Completely, ridiculously awesome news, you guys — even if you don't live near an Eataly, you can still gift your loved ones fancy-ass artisanal foods this holiday season! Eataly is launching their online grocery store, just 100 products at a time, so as not to overwhelm you. Plus, this way, you avoid the olfactory assault that comes with entering the brick-and-mortar Eataly. Okay, that comes with walking past the outside of the brick-and-mortar Eataly.
Daily Meal: You know those insanely expensive coffee beans that are only harvested after Asian palm civets have eaten, digested, and excreted them? Turns out there are animal abuse allegations afoot at civet coffee farms, accusing harvesters of treating the cuddly animals inhumanely. Well, duh. That's bound to happen when you allow merchants to charge $230 a pound for cat-poop-coffee.
New York Post: On a somber note, a nineteen-year-old man leapt to his death from the Brooklyn Bridge this morning, landing right outside the River Cafe. Traffic was shut down as the teen was spotted pacing the tower, but sadly, he jumped about 30 minutes later and was pronounced dead on the scene.
Have a tip we should know? tips@mediaite.com