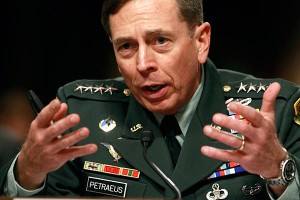 The reputation of CIA director and former general David Petraeus may be tarnished in the wake of the sex scandal that led to his resignation earlier this month, but it has not been irreparably damaged. A new poll released today by CNN shows that Petraeus still has strong favorability ratings among a plurality of Americans, and the country is split down the middle on whether or not he should have resigned following the scandal going public.
RELATED: Leno Mocks UN Ambassador: Petraeus Mistress 'Had More Information On Benghazi Than Susan Rice'
The CNN/ORC International poll finds that in spite of the news that Petraeus was having an affair with his biographer Paula Broadwell, his credibility with the American public is still pretty strong.
[T]he public is split right down the middle on how the Obama administration's handled the Petraeus resignation, with 44% saying that officials handled it appropriately and 44% disagreeing with that view.

The survey also indicates that Americans are also split over whether Petraeus, the former four-star general who commanded all U.S forces in Iraq and later in Afghanistan, should have resigned as CIA director. Forty-eight percent 48% say that was the right thing to do; with 48% opposed to the resignation, which happened just three days after the presidential election.
A slim majority of Americans think that Congress should launch an official investigation into the affair. But most Americans do not think adultery should be considered a crime, both under military and civilian law.
The poll also finds that a majority of Americans do not believe the Obama administration intentionally covered up details surrounding the attack on the U.S. consulate in Benghazi two months ago. However, a little over half are not happy with the way the administration dealt with the attack in its aftermath.
Almost half of people questioned said the United States could have prevented the attack on the Benghazi consulate.
—–
Follow Josh Feldman on Twitter: @feldmaniac
Have a tip we should know? [email protected]
Josh Feldman - Senior Editor