Last Call: Who Pooped In My Fruit Loops? The Alan Richman Story Of Beer Loathing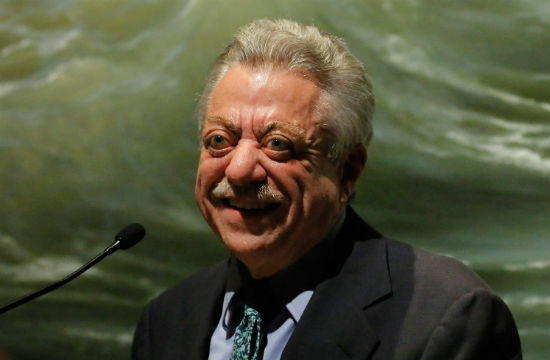 GQ: Alan Richman used to hate beer, so, of course, GQ tapped him for his 10 Essential Brews for their October beer-centric issue. How much does Alan Richman hate beer? This much: "For years, friends kept giving me fruity lambics, and I kept hating beer more and more. This particular one, which I tasted at Spuyten Duyvil, a wonderful beer bar in Brooklyn, ranks as the worst beer of my life. The flavor profile can be summed up succinctly: Who pooped in my Fruit Loops?"
The Perennial Plate: The fact that they're white isn't why Sean Brock, Brad McDonald, and David Klein are famous, but they are white, and they're famous. They've decided to put their collective efforts together to create a mega Japanese-themed dinner to celebrate the season three premiere of their web series The Perennial Plate. Of course, it's called GAIJINNER (gaijin being the Japanese word for foreigner). We humbly request that they play this song on repeat during the dinner, for its appropriateness.
Eater: Someone (probably someone obnoxious) snapped photos of all 16+ courses on the new menu of 3-Michelin starred The Restaurant at Meadowood. You know what 16 courses in one meal means? Tiiiny little dishes.
GrubStreet: Hot on the heels of an awkward 2013 UK Michelin Guide leak comes its equally awkward, less legit American cousin's scandal: the 2013 Zagat Guide to New York City Restaurants leak. The Barnes and Noble in Union Square accidentally set out copies — many many copies, as noted by GrubStreet — of the 2013 consumer-dictated Guide, even though the results aren't officially supposed to come out until next week.
New York Times: Guess what's finally très chic again in Paris? Offal. They, in fact, have a whole Academy of Organ Meats (exclusive, male-only club) who are reveling in the stigma of Mad Cow Disease finally having passed. Sweetbreads for all!
Daily Meal: How quickly hipsterdom circles back to stick-in-the-mud-dom. A Berlin coffee shop named Barn Roastery has currently banished strollers, milk, sugar, laptops, and music in its establishment in order to allow the coffee to shine. Up next on the list of verboten practices: dancing and joy.
Have a tip we should know? tips@mediaite.com