Last Call: Game Of Thrones Actor Gets Ear Bitten Off By Fan Desiring Westerosi Delicacy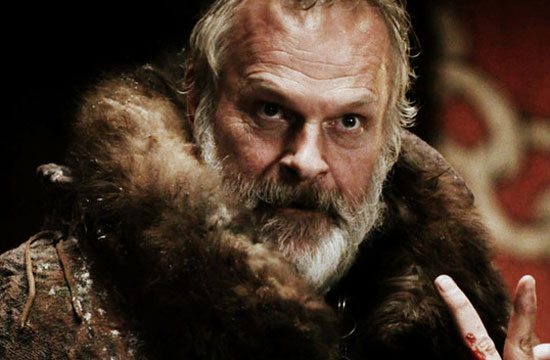 The Stir: In a weird case of life imitating art, Clive Mantle, the actor who portrays Greatjon in HBO's Game Of Thrones, got his ear bitten off by two drunk Scotsmen. We say it imitates art because the fingers of The Lord of House Umber were bitten off by a direwolf in Season Two, but not to the extent that the drunk Scotsmen then bit into a lemon cake, and a roast of lamb, and quails drowned in butter, and tea eggs, and firepods from the Dothraki Sea, and a leche of beef, and roasted gulls, and…
NPR: Heston Blumenthal sticks a machine up his nose and eats food, for science. Heston, are you just turning yourself into a mad scientist parody?
Epicurious: Chicks; or, HBO's Girls as reenacted by Peeps. Surprisingly, you can make a Peep naked!
Burger Lab: Richard Blais gets his Frankenstein on by putting a bird in a bird in a bird in a burger. That's right. The Turducken burger. Blais, what perversions against nature hath you wrought?!
The Bad Deal: Taking a stand against overly large plates that make diners full immediately, Alex Stupak of Empellon Cocina declared that he would no longer serve entrees, not just because tacos seem to be the cornerstone to his success, but also for personal reasons: "I can't stand [entrees] so I'm never cooking them again."
Vanity Fair: Behind the scenes of the brand-spanking new Husk Nashville, where Sean Brock is Instagramming all of the food porniness that goes on there.
Have a tip we should know? tips@mediaite.com