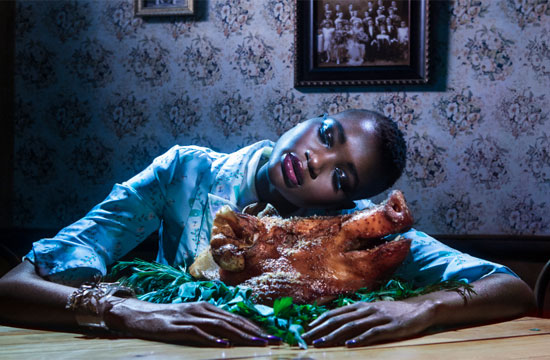 Jezebel: What happens when you shoot food as if it's a fashion editorial? Hint: it's much, much different than shooting food porn, or shooting food when it's alive, or shooting porn.
YumSugar: While you're busily scouring the interwebs for classy popcorn recipes to serve up at your Oscars party this Sunday, check out this brilliant slideshow of the best food scenes from this year's Academy Award-nominated films. Need we remind you of the Beasts of the Southern Wild crab feast?
Zagat: The Magical Elves were holding auditions this week for the next season of Top Chef, and Zagat crept into one of the casting sessions at Talde in Park Slope to give us a behind-the-scenes glance at the process. The scariest thing we learned pulling back the curtain: An ex-busboy/Parisian bakery worker/shrimp rancher and current investment banker thought he had the chops to make it. Oh dear.
Huffington Post: You're complaining about college loans and that useless degree, ain't ya? Well, back in our day, we didn't have college degrees! The closest we could get to feeling like we had a future were these actual, physical diplomas from McDonald's, written in fancypants Latin! Now quit your jibber-jabbering and bring us our Sensodyne.
Las Vegas Weekly: There once was a nightclub called She/'twas as bad as a concept could be./Though the club did shut down,/the steakhouse stayed around/and "Eva Longoria" doesn't really fit in this limerick, but she was involved, and you get the picture.
Modern Luxury: Inside the mind of Max Wade, the Guy Fieri Lamborghini car thief (among other things), which attempts to answer the question: "Why would a rich, bored, neglected, jaded, white teenage boy from a wealthy suburb feel the need to steal a Lambo?" Don't worry, we'll be right here waiting for your answer.
Have a tip we should know? tips@mediaite.com