Last Call: Starbucks' 'Come Together' Campaign Is Totally Going To Solve All The World's Problems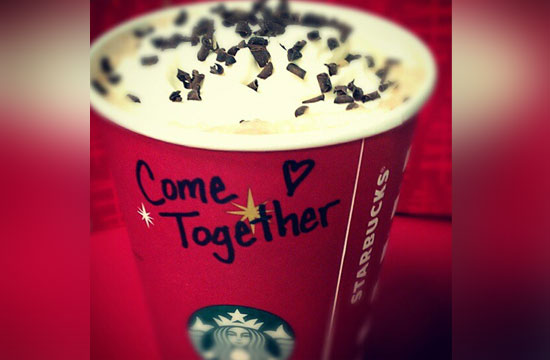 Zagat: To encourage lawmakers to resolve negotiations over confronting the looming fiscal cliff, the CEO of Starbucks has asked all of his DC-area employees to write "come together" on every beverage they serve. Awwww. That gesture is so sweet and insubstantial, much like a Starbucks beverage.  (Also, let's point out that Starbucks also has flagrantly dodged its tax obligations in the past, too. Ar har har har.)
Grub Street: To complement a performance at New York University staged by a troupe of deaf-blind actors, Danny Meyer is helping the group host a themed pop-up restaurant, where the waiters are blind and the food is served in total darkness. Or, as any Hell's Kitchen contestant would call it, "the perfect restaurant."
NYT: Readers tell the Gray Lady their favorite restaurants outside of New York City. Wait — there are restaurants outside of New York City?!
Huffington Post: Patrick Dempsey, who plays McDreamy on Grey's Anatomy, wants to buy Tully's Coffee in order to rescue the floundering Seattle chain and save over 500 jobs. We don't know how many of those employees are women, but they now have the chance to say "Doctor McDreamy saved me!" and have that be completely true.
NYDN: A high school secretary was slapped with a $9000 fine after her employers found that she'd been using the school's card to purchase, among other things, hundreds and hundreds of dollars worth of McDonald's and Subway meals. Her embezzlement was uncovered when administrators noticed that someone using the credit card was going to McDonald's four times a day (true fact), and oh, look at that, guess who's gained weight recently? J'accuse.
Have a tip we should know? tips@mediaite.com