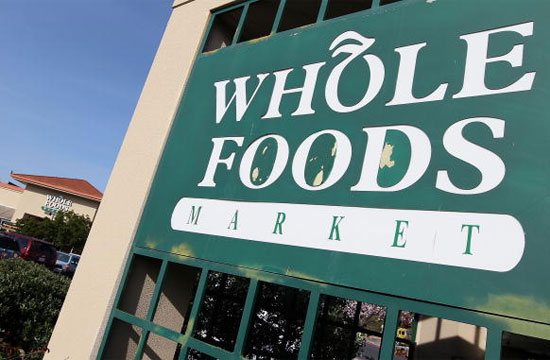 It is a glorious world indeed.
Despite the rest of the country's bickering whether marijuana legalization is a good thing, Colorado and Washington just went ahead and did it and are now experiencing an economic boom because of it. As in $370 billion of cannabis products purchased in just Colorado and Washington in the last year. Now, Business Insider is making us wonder whether other food companies will look to cash in on the cannabis high.
The most natural company to get on board, says Business Insider? Whole Foods. CEO John Mackey is supposedly cool with selling cannabis products in Whole Foods should the substance be legal and the community is cool with it. (Which gives us some sort of surprise, seeing as Mackey is super against Obamacare, but cool with weed? Does he figure that letting the world get high relieves the burden on the healthcare system? What gives, dude?)
But let's think about why this makes sense — hippies love pot. (Even Bethenny Frankel loves it!) Hippies love organic products. And put those in the same retail market, and the world will most likely shoot straight back to the 70's, only with more Subarus and TOMS shoes. (We know we're stereotyping, deal with it.) Think about it — cannabis cold-brew and weed Nutella in a Whole Foods. But according to Business Insider:
The 3rd ArcView State of Legal Marijuana Markets report found that if legalized nationwide, the marijuana market would surpass the $33.1 billion organic food industry by about $3 billion.
And you thought gluten-free products would be the money-maker. Fear not! A Whole Foods Cannabis Aisle could happen!
(However, Grubstreet rightfully points out that if anyone should adopt this business model, it's Trader Joe's. Trader Joe's is basically stoner foods central.)
[Business Insider h/t Grubstreet]
Have a tip we should know? tips@mediaite.com