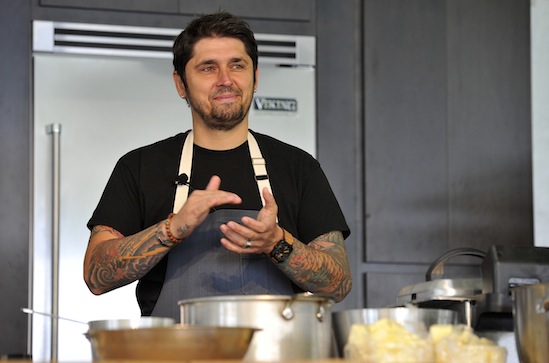 "Just last week I had 50 Cent came to the restaurant," chef Ludo Lefebvre tells Matt Rodbard of Food Republic. "It was cool to cook for 50 Cent. Of course, I didn't put [on] his music." And now we know the chef of LA's newish Trois Mec is not only a purveyor of French fineries — sorry, "Bistronomie" — he's got a cultish love of the one music genre America can call its own. Except, he prefers the French variety.
"It was very, very difficult for us in the beginning to find the restaurant. We were putting rock, classic rock, American rap — I mean we tried everything. And I don't know, I was not feeling it. And one night, I talked to my manager and said put on [French rapper from the '80s] NTM. And I don't know if it sounds romantic or something, but every night 50% of the customers came to us and say they love the music."
Probably because he's not subjecting them to "Candy Shop", or any of the professional slur-grunts that 50 Cent calls tracks (sorry, Fiddy). Ludo goes on to say that he identifies with the outsidery subtext in certain French rap. He adds that the high-low mix is what he was going for at the new restaurant, so all those critics — like Jonathan Gold of the LA Times, who called the "vulgarity" of the French lyrics "pretty overwhelming" — need to chill and feel his flow.
"I didn't know Jonathan Gold was speaking French. It's not that vulgar and it's very difficult to know what they're saying. Especially because the restaurant is very noisy, it's difficult to understand what the rapper's saying. Yeah, so I love French rap. I tried to do a refined restaurant between casual and fine dining room. It's a new thing I tried to do. You know, elegant with great hospitality. Good ambiance. Great food. But I don't want to put too much classical music on there. You know, I want to put music with a good rhythm."
Lefebvre also likes the hip-hop world's concept of ticket sales, and has been known to sing in public. Maybe when he's done filming The Taste season two, Ludo will lay down some ill tracks of his own.
For now, here's a taste of that extremely vulgar rapper from the '80s, to vicariously experience the rap-mosphere at Trois Mec. But like, who knows French anyway?
RELATED:
The Taste Season Two Judgecast: Ludo In, Malarkey Out
Ludo Lefebvre Denies Trois Mec's Next Ticketing System Is Intended To Target No-Shows
WATCH: Ludo Lefebvre Christens Trois Mec With Charming Burgundian Drinking Song
Have a tip we should know? tips@mediaite.com