Margaret Thatcher, Ice Cream Innovator And British Prime Minister, Dies At 87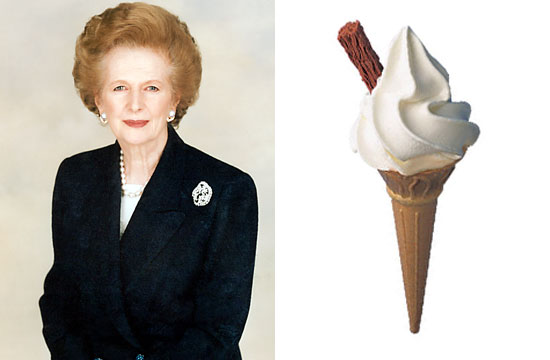 This morning, Margaret Thatcher, a chemist on the team that invented the 99-cent soft ice cream cone, died at 87 due to complications from a stroke.
The ice cream innovator, who also left behind a monumental political legacy as Britain's longest-serving prime minister, a staunch opponent to communism, and a controversial advocate of free market principles during some of the United Kingdom's largest labor strikes in history, helped develop the famous Mr. Whippy cone as a young woman in the 1950s.
After she graduated from Oxford with a degree in chemistry, Baroness Thatcher, then known as Margaret Roberts, was a chemist at J. Lyons and Co., and was reportedly on a team that discovered a way to double the amount of air in ice cream, making it possible to serve the stuff out of a machine. The Guardian writes "the tiny bubbles make the ice-cream smoother and lighter, and it's served at -4C instead of -15C," resulting in the delicious, liquid-like treat that pours out of a mechanical spigot and into our mouths. Thatcher herself researched emulsifiers, which practically made her Heston Blumenthal, but with bigger hair.
Coincidentally, and this is true, Thatcher also gained the nickname "Milk Snatcher" during her prime ministership for cutting milk subsidies to children in public schools.
Chefs around England are mourning this freeze-market giant in their own ways:
RIP Thatcher. She invented the 99 ice cream during the 1974 strike. The cabinet misheard her request do something for those unhappy "minors"

— Heston Blumental (@HestonBlumental) April 8, 2013
Hahaha, because, get it, miners = minors, and 1974 = 1984. RIP, Mags.
Have a tip we should know? tips@mediaite.com