Michael Voltaggio On Foraging, Mandy Moore, And What's Wrong With Food Media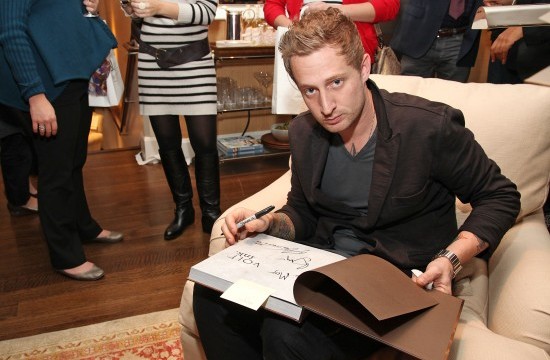 What's it like being Michael Voltaggio today? For starters, he's been having a pretty darn good year: his restaurants, ink. and ink.sack are celebrating their one-year anniversary within weeks of each other, and ink.'s been named as one of America's best new restaurants by Bon Appetit (GQ went one further and claimed it was the best new restaurant in America, period). He's been at the forefront of Los Angeles's protest agains the foie gras ban, and the target of Ludo LeFebvre's e-pimping. And last night, he made an appearance on The Exes, which brought him in extremely close proximity with our favorite person, Donald Faison. 
He'll be the first to admit that he's extremely lucky, and before he made his sitcom debut, we sat down with him to reflect on the awesomeness of his year and what badassery he may get into next.
The Braiser: We always find it funny when chefs cameo on TV, so how exactly did this come across your desk?
Michael Voltaggio: Basically, as bad as it sounds, I have an agent. So what happens when you work with an agency is that… you know, I'm in a non-scripted department, so my agent represents me for things like cookbooks…But occasionally what happens, because you get a bunch of different areas within the agency, scripted television is one of those areas, so sometimes, there is lateral service and in this case, that's how it happened. I think somebody – one of the creators of the show is a client of [the United Talent Agency] and they had written a storyline about this chef character being somebody that somebody on the show was a fan of, and they wrote, I guess, my name in that script. So, then, they were like "Well, let's just see if we can get him to do it." And so that's how it happened.
So it was lucky synergy?
Well no, because to be honest, it's not the first time that something like that has happened. And you're right, like – that's why I was kind of laughing and like, "What do you mean you never thought it was something I would be doing?" I never thought this was something that I would be doing, and I've never wanted to pursue anything like that, but I was like "Whatever, I'll try it. Why not?"
Even back during pilot season, or whatever – I guess that's what it's called, when people are going out to do shows or whatever – my agent sent me to read for some other, similar-type situation, where I actually went all the way to like a chemistry test with Mandy Moore, so it was like this whole, weird thing that was happening to me last year. I did pretty good at it, so my agent doesn't hesitate when opportunities come along. And to be honest with you, they're fun… It's like a day of work, outside of work, you know what I mean? It's just like… I don't know. I feel so blessed to get to do the things that I get to do right now. My life is so much fun.
That sounds pretty awesome.
It becomes… I have to add it to what I already have to do. You know what I mean? So, I still have to be at work, running the restaurant while, like today I have a Food Network thing that I have to do, and then I need to be here.
Yeah, I was going to ask you a bit more about your work, because I heard that ink.sack just turned one?
Ink.sack is a year old, yeah.
Oh, wow. Congratulations.
Thank you.
So, what are you planning on doing with ink.sack? What are your next steps with the restaurant?
I mean, with ink.sack – ink is going to be a year old on the 21st of September, so we're pushing our anniversary for ink. We've got plans for that. The sandwich shop, ink.sack, just turned a year old, we're thinking about fitting into the spaces as a whole. You know, now that a year has gone by, is there a way to utilize the space more efficiently? Is there a way to enhance the brand, each individual brand, stuff like that.
Ink.sack doesn't have its own kitchen, so we make everything from ink, so the question is: is it time to put a kitchen in ink.sack or is it time to find a home for ink.sack that has a kitchen so that we can cook more food there and add more hot experiences like french fries and soups and things like that so that – I mean, the plan is just to continue to evolve both restaurants and make the food better and make the guests' experience better, and that's what we're trying to do. So, it's weird to be a year old, because we feel like we just got started.
And now you're nominated for Bon Appetit's best new restaurant.
Yeah, that trips me out. I feel like – I don't know what to think when I read all that stuff. I'm still… I never thought that I would ever be able to cook at this level. Like, I never dreamed that I could, so I don't believe it when I read it, you know what I mean, and I'm so humbled by all that stuff that happens because I just don't – I just want to cook good food in a restaurant and make people happy . You know, and if a couple people notice it and write a story about it, then cheers for that, you know, because – it's kind of like when you look out into the restaurant and you watch somebody take a bite of something and they smile, you know, that makes it all worth it, so if someone documents an experience that they had here or if a publication comes through and recognizes the restaurant because they just, they just liked it.
You know, when GQ came out, Jim Nelson called and – I'll never forget the phone conversation because he was just like "You know, it's not the fanciest restaurant in the world, [but] to be honest with you, I just had a good time. I just liked it." And we were on a list for GQ with a lot of – I mean, a lot of great restaurants opened last year. And when he gave us Best Restaurant in the Country, I was just like "Wait… what? Are you sure you put the right person on the list?" You know, because we had a… I tried to do it with a conservative budget, because I didn't want to dig myself in too deep of a hole, and we tried to – I wanted to just be special. I just want the space to be a place where people feel like they can stop in off the street, grab a cocktail and a few plates of food and be on their way, but have it be an experience that they would get at a restaurant that they would spend $500 in.
NEXT: "Foie gras wasn't a big deal until the press sort of made it a big deal."
Have a tip we should know? [email protected]