Mike Huckabee Calls For Chick-fil-A Appreciation Day To Protest Left's 'Intolerant Bigotry'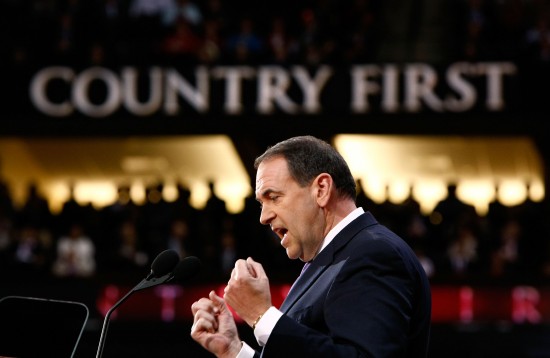 Oh boy, we seem to have entered into Culture War Territory with the recent controversy over Chick-fil-A's views on gay marriage. The latest salvo comes from former presidential candidate, Arkansas governor, and current Fox News commentator, Mike Huckabee, who is appalled by the way that Chick-fil-A and its CEO Dan Cathy are "being smeared by vicious hate speech and intolerant bigotry from the left."
So if you agree, join him and 80,000 of your closest Facebook friends for National Chick-fil-A Appreciation Day:
No one is being asked to make signs, speeches, or openly demonstrate. The goal is simple: Let's affirm a business that operates on Christian principles and whose executives are willing to take a stand for the Godly values we espouse by simply showing up and eating at Chick Fil-A on Wednesday, August 1. Too often, those on the left make corporate statements to show support for same sex marriage, abortion, or profanity, but if Christians affirm traditional values, we're considered homophobic, fundamentalists, hate-mongers, and intolerant….

There's no need for anyone to be angry or engage in a verbal battle. Simply affirm appreciation for a company run by Christian principles by showing up on Wednesday, August 1 or by participating online – tweeting your support or sending a message on Facebook.
Huckabee was quick to emphasize that this event was in no way sponsored, promoted, or endorsed by Chick-fil-A. According to The Onion, however, the corporation has some better, in-your-face campaigns on the way.
We can't wait to hear what Boston mayor Tom Menino has to say about this.
Have a tip we should know? [email protected]