Ever Want To Compete On A Trainwreck? Casting Call For NBC's New Reality Cooking Show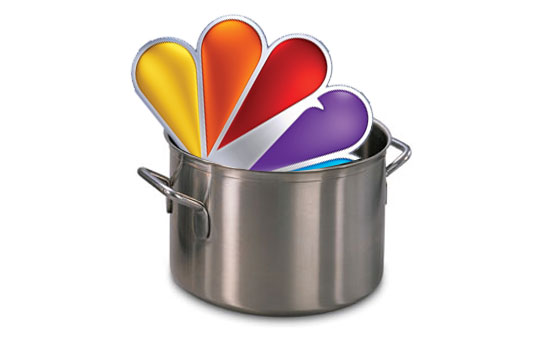 Okay, maybe we're a little burned out on this reality cooking competition thing, but this might actually be a sign of End Times: the beleaguered network NBC has, after months of teasing and development, begun casting for its newest show: a show where "every day people [are] willing to put their signature dishes and family recipes up against those of professional chefs."
First off: does that sound familiar?
Second of all: This might be a horrible idea.
Essentially, take the exact same concept that drove the perpetual letdown known as The Taste (amateurs vs. pros), chuck out all the parts of it that made it semi-watchable (celebrity chefs; if any were attached to this project, they would've been teased on many press releases), and place it on NBC, the sad, floundering network whose only reality ratings hit is The Voice, and we're looking at something that could be an unmitigated disaster.
Even worse — and follow us carefully, because this is a twisty little logical puzzle — imagine The Voice, but with food. But then that would be The Taste, which was bad, but it's being produced by the people behind The Voice. So by transitive property, would not this mystery NBC show be twice as sucky as The Taste? Or would this new show be The Voice? Now our brains hurt.
Either way, if you've ever wanted to be on a trainwreck, email the casting director at castingerin@gmail.com. We're definitely sure she's the official gatekeeper of the Unnamed Show, because she's been blasting the same tweet to every food person who ever fooded, ever.
Have a tip we should know? tips@mediaite.com