New Mexico Offended After Anthony Bourdain Slanders Their Virtuous Frito Pie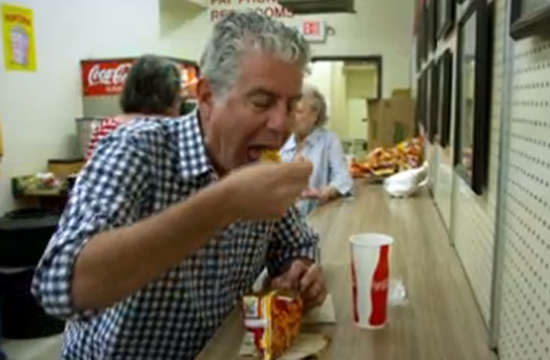 The rules of the desert dictate: thou shalt not fuck with a man's Frito Pie, nor shalt thou edit footage of thine slander to spreadeth falsehoods about a man's Frito Pie on national television.
This is why after CNN aired its New Mexico episode of Anthony Bourdain's Parts Unknown, it was forced to atone for its actions — specifically, for claiming that the chili used in Frito Pie was mass-produced Hormel's Chili. (The ingredients for a Frito pie: bag of Fritos + chili + cheese.) But in an interview with SFGate.com, the pie's creator begs to differ:
Mike Collins, store manager of the Five & Dime, says Bourdain was "completely wrong" on the store's Frito pie. He said their version is homemade from chile grown in New Mexico and remains popular.

"I don't have any idea where he got that from," Collins said. "I mean, if we're using canned Hormel Chili then I'd like to buy stock in that because what we have is good."

Still, Collins said he and the staff don't have any ill feelings toward Bourdain. He said during the taping of the visit, Bourdain was nice and a pleasure to be around.
Bourdain then issued this mea culpa via a spokeswoman:
"Contrary to the impression left by some reports of the show, I, in fact, very much enjoyed my Frito pie in spite of its disturbing weight in the hand. It may have felt like (expletive) but was shockingly tasty."
(To be honest, we never caught the faux pas. We were watching something else.)
RELATED:
Tonight in Food TV: Anthony Bourdain Takes On Frito Pie on Parts Unknown
WATCH: Bourdain's New Mexico Episode Airs at the Same Time as Breaking Bad Finale
Parts Unknown Season 2 to Premiere September 15th
Have a tip we should know? tips@mediaite.com