Boehner Lobbied for Same Congressional 'Exemption' He Tried to Kill Last Night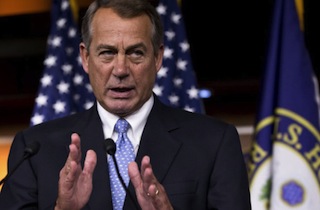 Politico reported Tuesday morning that House Speaker John Boehner had quietly lobbied for months for a congressional staff "exemption" to the Affordable Care Act—the same "exemption" he argued against on the floor of the House Monday night when his caucus passed a continuing resolution that removed it from the bill.
Via Politico:
"Why don't we make sure that every American is treated just like we are?" Boehner asked, seeking to prohibit members of Congress and Capitol Hill aides from getting thousands of dollars in subsidies for their health insurance as they join Obamacare-mandated insurance exchanges.

Yet behind-the-scenes, Boehner and his aides worked for months with Senate Majority Leader Harry Reid (D-Nev.), House Minority Whip Steny Hoyer (D-Md.), and others, to save these very same, long-standing subsidies, according to documents and e-mails provided to POLITICO. Senate Minority Leader Mitch McConnell (R-Ky.) was also aware of these discussions, the documents show.
Background: during the original debate over ObamaCare in 2009, Senator Chuck Grassley (R-IA) introduced an amendment that would force congressional staffers into the ACA's exchanges, which were meant for individuals, not large employers. Grassley expected the Democrats to kill the amendment, thus allowing Republicans to claim even Democrats in the government didn't want ObamaCare. But the Democrats accepted the bill, creating a second problem: would the government continue to contribute to the employees' health coverage under the exchanges, which employers were not supposed to do, or would congressional staffers be eligible for taxpayers subsidies?
Nobody wanted the latter, so eventually the Office of Personnel Management allowed the government to contribute, as otherwise congressional staffers would essentially be punished with a massive pay cut. This is the "exemption" that so many conservatives have been fighting, up to the "Vitter amendment," which was passed last night as part of the House's third attempt at a continuing resolution. It was immediately defeated in the Senate.
But according to Politico, Boehner knew of this problem long ago and lobbied aggressively, if secretly, for the "exemption." "According to several sources in attendance at a mid-July meeting with Reid," Politico reported, "Boehner wondered aloud at one point whether he and the Nevada Democrat could quietly slip some language into a bill to end the problem without it receiving any public attention."
The speaker even attempted to set up a meeting with President Barack Obama, proposing using a cover story to obscure the true purpose of the meeting because the issue was so politically queasy. "I really don't care what is is about," Boehner's Chief of Staff Mike Sommers wrote in an email to Reid's office, "it just can't be about what we know it is about!"
Boehner's office denies any contradiction between the Speaker's months-long lobbying effort and his campaign last night to defeat it. "We always made it clear that the House would not pass any legislative 'fix,'" said Michael Steel, Boehner's spokesman. "Speaker Boehner was aware that Sen. Reid and the White House were discussing this issue. He was always clear, however, that any 'fix' would be a Democratic 'fix.' His 'fix' is repealing."
Boehner's office said the leaking of the emails between the speaker and Reid was a political play. "This is just a desperate act by Harry Reid's staff to protect their own subsidy," Steel said. Reid's office, by contrast, freely admitted the discussions and thanked Boehner for his participation.
Read the full article HERE, via Politico
[Image via Voxxi]
——
>> Follow Evan McMurry (@evanmcmurry) on Twitter
Have a tip we should know? tips@mediaite.com