Street Meat, Daycare Deals, & $16,000 Of Uneaten Truffles: Chefs Struggle In Sandy's Wake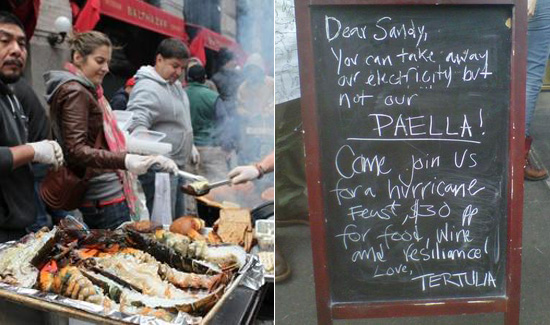 The subways may be (partially) up and running, but 220,000 people and businesses in New York City still don't have power — and indeed, some of them are chefs. Restaurants operate on an incredibly narrow profit margin, which means four days of lost business can make or break a month — or six months. And that's why some enterprising owners are making do (and making food) with what they have, or, if all else fails, just giving it away.
Mario Batali and Joe Bastianich may have had the most to lose — their food empire includes the 50,000 imported good mecca Eataly — but fellow telegenic chef Tom Colicchio told the New York Post, "We're usually sitting on between $15,000-$20,000 in inventory, and it's gone."
Both Soho stalwart Balthazar and Chelsea's Bareburger opted to move soon-to-spoil inventory via the street-meat route (with the former grilling up meats on the sidewalk gratis, and the latter taking only for donations for the Red Cross), while Andrew Carmellini can't seem to get anyone to take $15,000 worth of truffles off his hands. From the New York Times:
Then there was the truffles. Mr. Carmellini had been gearing up for his annual Trufflepalooza festival at Locanda Verde. "Now he's got $15,000 or $16,000 worth of truffles going bad," said Ken Friedman, a partner in that restaurant, as well as in properties associated with April Bloomfield like The Breslin, The John Dory Oyster Bar and the Spotted Pig. "We thought of doing a pop-up at the Breslin, but the chefs at the Breslin said nobody wants truffles."
Friedman and Carmellini may want to take a page out of Jeffrey Bank's book. The CEO of Alicart Restaurant Group (which includes Times Square staple Carmine's as well as Virgil's BBQ) offered up a special deal for stir-crazy parents. According to Zagat, "if you order some penne a la vodka, Carmine's will give you 45 minutes of free day care."
Seamus Mullen, however, may have had the best plan of all. The chef/owner of Tertulia went back to basics and re-opened his West Village restaurant to serve customers by candlelight. No electricity? No problem. Wolfgang Puck would surely approve.
[NY Post, Zagat, NYTimes, AP, @Tertulia_NYC]
Have a tip we should know? tips@mediaite.com