Obama Allegedly Didn't Finish Dinner at World's Best Sushi Restaurant; WTF Is Wrong With Obama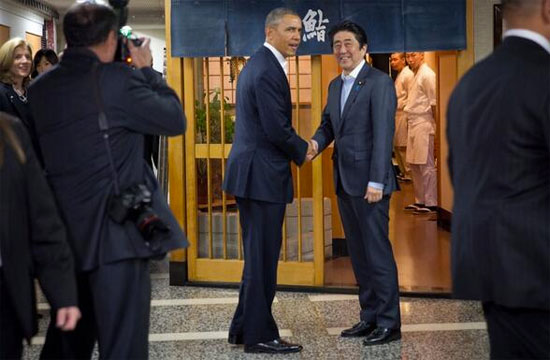 Remember how a few days ago, Barack Obama and Japanese prime minister Shinzo Abe had a diplomatic dinner at Sukiyabashi Jiro? You know? The Sukiyabashi Jiro? The place widely regarded as the best sushi restaurant in the world? The house that Jiro Ono built, where he serves a $300+ omakase menu out of the palms of his ancient hands? The subject of the documentary Jiro Dreams of Sushi? Yeah, you'd think that Obama, what with his love of celebrity chefs and fine dining and all, would have been overwhelmed with food joy at the prospect of eating there.
Welp, apparently he was — to the point where he didn't finish his dinner. 
According to the owner of a nearby yakitori restaurant speaking to the AFP, halfway through the 20-course meal, "Obama had put his chopsticks down" and "jumped straight into discussions about trade." Said owner also mentioned that a sushi chef from the restaurant told him that Obama spoke to Abe quite formally, though the dinner itself was billed initially as a casual "chance for bonding, at which neither wore a tie." (By the way, each course is one piece of sushi. That's 20 pieces of sushi, which, really, is enough. Even supermodels can eat 20 pieces of sushi in one sitting.)
A spokesman for the Japanese government acknowledged that Obama "ate a good amount," adding that he could "tell from his expression he was very much satisfied." Abe, however, apparently ate all 20 pieces of his sushi, which any normal, non-awkward person would do when sitting in the world's best sushi restaurant.
By the way, that trade talk? The one Obama brought up during the dinner, and the reason he's visiting Japan? It's failing hard. That's why you don't stop eating in the middle of an omakase to browbeat the prime minister of Japan into discussing the Trans-Pacific Partnership Free Trade Agreement! It's just insulting. (EDIT: It's also highly insulting to the chef, who selects each piece of fish according to whatever is of the highest quality in the markets that day, and it's well known that Ono only stands for the best. There are a lot of sushi etiquette rules, which, if this incident is indeed true, were severely violated. As a matter of diplomacy, Obama should have finished his meal in any case.)
Ugh, Obama. For the love of — your state department invented culinary diplomacy. We thought you were more cosmopolitan than that.
[AFP]
RELATED:
Cris Comeford Hangs Out In Europe With Chefs Who Work For Heads Of State
Sushi Chef Busted in The Cove Pleads Guilty To Selling Endangered Whale Sushi
WATCH: Try Not to Slap Everyone in This Trailer for a Documentary about Uber-Rich Foodies
Have a tip we should know? tips@mediaite.com