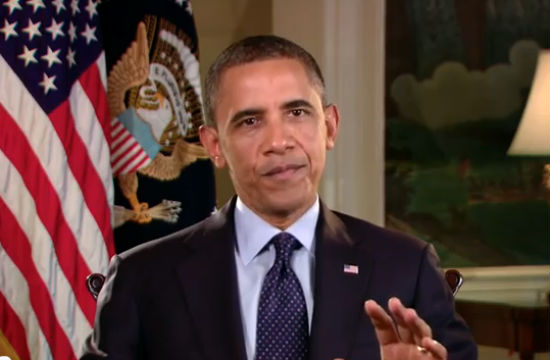 Mario Batali is a well-known supporter of passing the Farm Bill, once putting his whole family on a food stamp budget for a week to raise awareness for the cause. Now, Barack Obama is using that whole Presidential YouTube Account Thing to back up Batali and raise awareness too. He may not be demanding Sam Kass cook for the First Family with only $1.48 spent per person per meal, but he dedicated his weekly address this week to the drought and impending grocery store anarchy due to rising meat and produce prices.
He cites the Department of Agriculture's work with other federal agencies, which has already provided farmers with low-interest emergency loans to get them through the drought, opened up more federal land for grazing (happy cows are all "om nom nom"), and provided $30 million to get more water to suffering farms. He adds:
"But my Administration can't do it alone. Congress needs to do its part, too. They need to pass a farm bill that not only helps farmers and ranchers respond to these kinds of disasters, but also makes necessary reforms and gives them some certainty year-round. That's the single best way we can help rural communities right now, and also in the long-term…Too many Americans are suffering right now to let politics get in the way. Let's help farmers, ranchers and business owners recover. Let's make sure that families who already stretch their budgets to the limit don't have to pay more for groceries this fall."
You can watch the whole address below and then mourn for the profound lack of beef on the menu at Momofuku next year.
Have a tip we should know? tips@mediaite.com