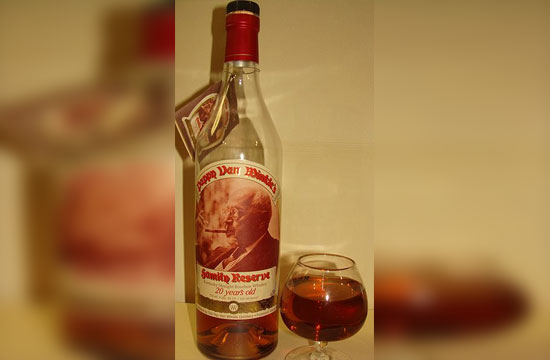 In a shocking crime that will legitimately give celebrity chefs a heart attack, the Buffalo Trace Distillery reported that someone, probably an employee, stole more than $26,000 worth of precious, precious Pappy Van Winkle from their reserves.
The State Journal of Frankfort, KY broke the news that 65 cases, each containing three bottles, of Pappy Van Winkle's Family Reserve 20 Year bourbon — a rare and expensive favorite of chefs such as Sean Brock, Anthony Bourdain, and David Chang — were reported missing to the Franklin County Sheriff's office on Tuesday.
According to Sheriff Pat Melton, the bourbon was stolen over the past few months from a facility which "about 50 employees" could access.
While the bourbon itself isn't jaw-droppingly expensive (each bottle of the 20-year retails for $130), the rarity of Pappy Van Winkle means that people treasure this bourbon like…like Van Gogh paintings in liquid form. Like the pelts of rare Siberian tigers. Like swords of Valyrian steel. (Seriously: according to the Wall Street Journal, bottles sell for nearly $5,000 on secondary markets and people nickname the bourbon "unobtanium." So really, the value of the stolen bourbon could be about thirty times more than its market value.)
As of press time, no chefs had publicly sworn their vengeance against the thieves, demanding that their hands be chopped off and their tongues cut out.
[The State Journal via Bourbon Blog]
RELATED
Trial for Thief of Guy Fieri's Lamborghini Begins, Sounds Like Bad Prison Break Episode
Justin Warner's Moped Stolen, Falls Victim to Curse of Food Network Star Grand Theft Auto
Scandal At Three Michelin-Starred Masa Leads To Awful Food Puns From Manhattan DA
Have a tip we should know? tips@mediaite.com