Paula Deen's Latest Defense: The Woman Suing Her For Racial Harassment Is White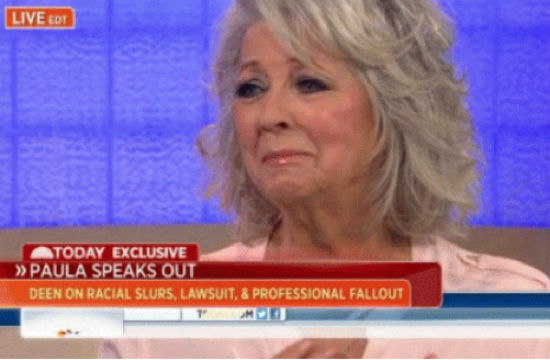 You know how hours and hours of expert analysis has been logged by everyone from image experts and brand managers to body language interpreters and Carson Daly regarding Paula Deen's racial harassment lawsuit? The one in which she admitted in a deposition to using the N-word and fantasizing about a charming plantation-themed wedding with people in slave regalia serving the guests? And you know how all of those experts have uniformly agreed that the best way for Paula to have handled the PR fallout would have been to use this as a "teaching moment" to admit the still-warped attitudes towards race in the South, and to apologize profusely, over and over again? And how Paula Deen hasn't really done any of that, but rather, made it about herself, and how hurt she is over all her partnerships dumping her, and everyone coming out to label her a racist?
Guess what else isn't helping your image, Paula? Blaming the victim.
TMZ has reportedly obtained legal documents from the lawsuit, showing that Paula Deen's lawyers went after Lisa Jackson and proved she had no ties to the Black community. Jackson filed the racial harassment suit on the grounds that she was "African-American adjacent" — in other words, even though she herself was white, she claimed to be distressed by Paula and her brother's racist comments because her partner had a biracial niece.
P-Dizzle's crack team of lawyers went on to prove that Jackson's niece is actually Hispanic, and not Black, which apparently means she has no right to be offended…?
Notes TMZ, "So now Paula wants the judge to throw the book at Jackson, fining her with sanctions for creating a bogus racial harassment case."
How much worse could this possibly, possibly get before it gets better?
[TMZ]
RELATED: Today Show Recruits Body Language Expert, PR Guru & Carson Daly To Dissect Deen Interview
WATCH: Today Show Uses Paula Deen Interview To Report On George Zimmerman, 'Post-Racial Society'
Lawyers Release New Defense Of Paula Deen's Racism: She's A Southern Old Person
Paula Deen Defends Use Of 'N-Word', Wants Black Employees To Dress Like Slaves (UPDATED: And She's Fired)
Have a tip we should know? tips@mediaite.com