PPP Poll: Paula Deen More Popular Among Republicans Than Martin Luther King, Jr.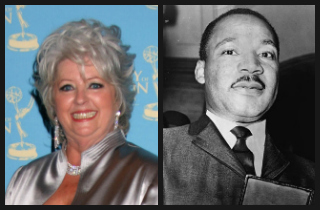 This recent Public Policy Polling survey is simultaneously a sad indicator of race relations and the biggest troll perpetrated by a polling firm: according to them, more Georgia Republicans admire fallen, confusedly racist Food Network star Paula Deen than civil rights activist Martin Luther King, Jr. 
In a recent tweet teasing an upcoming study, the firm revealed that Deen boasted a 73% favorability rating among Georgia Republicans, despite the recent bad publicity surrounding a lawsuit from a former employee alleging racial discrimination, her admission to using the n-word in a legal deposition, and the subsequent fall from network television and corporate sponsorship deals. Contrast that with Martin Luther King, Jr. — remember, the "I Have A Dream" guy? The pastor responsible for a peaceful solution to racial inequality in the South during the 1960's? We have a federal holiday named after him? — who scored a respectable but low 59% favorability rating.
At the very least, we're happy that self-identified Georgia Republicans don't actively hate Martin Luther King, Jr., but you'd think that between these two Georgia natives, preference would go towards the guy who actually made a huge difference in history than the celebrity chef who rattles off vapidly racist statements and business requests. (Who really asks black people to dress up as black stereotypes for business purposes? Walt Disney?)
RELATED:
WATCH: Oprah Speaks Out On Paula Deen, 'She Was Used As A Symbol'
Paula Deen Asked Her 'Soul Sister' & Cook Of 22 Years To Dress Like Aunt Jemima
Paula Deen Defends Use Of 'N-Word', Wants Black Employees To Dress Like Slaves (UPDATED: And She's Fired)
Have a tip we should know? tips@mediaite.com