Ted Cruz 'Modeled' His Senate Campaign On 'Extraordinary Politician' Barack Obama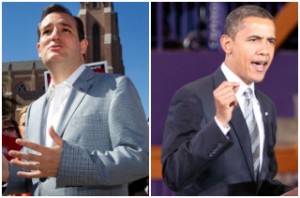 President Obama got some unexpected praise from Republican senator and potential 2016 presidential hopeful Ted Cruz today. In an interview with TIME Magazine, Cruz said he "modeled" his successful 2012 Senate campaign on Obama's 2008 run (along with Sen. Marco Rubio's in 2010). Cruz said he believed so much in the Obama playbook that he gave some of his staffer's David Plouffe's book, The Audacity to Win for Christmas.
Responding to interviewer Alex Altman's suggestion that his talk about "empowering the grassroots" reminded him of Obama, Cruz said:
"I think Barack Obama is an extraordinary politician. And I respect Barack Obama a great deal. I think he is committed to his principles, which is rare in politics. Now I also think, and please don't leave this part out, that the principles he believes in are profoundly dangerous. I respect that he believes, I think genuinely, with all of his heart, that government control of economy and redistribution of wealth betters the world. I think moving in that direction has wreaked havoc to the American economy. The people who suffer in the Obama economy have been young people, African Americans, Hispanics, single moms.

There were two campaigns on which we modeled our campaign for Senate, and they were Obama's campaign for President in 2008 and Marco Rubio's campaign for Senate in 2010. If you look at that 2008 Democratic primary, there was no more formidable, unstoppable candidate — other than an incumbent President — in modern times than Hillary Clinton. And Barack Obama ran a guerrilla campaign that empowered the people. So for Christmas I gave a number of campaign staffers David Plouffe's book, The Audacity to Win."
In this analogy, Cruz appears to be comparing Hillary Clinton in 2008 to his more moderate 2012 Republican primary opponent David Dewhurst, who at the time was expected to become the GOP Senate nominee. Cruz forced a run-off with Dewhurst, going on to defeat him in July and cruise to an easy victory against Democrat Paul Sadler in November. If Cruz does decide to campaign for president in 2016, he would likely run to the right of less fundamentally conservative candidates like Chris Christie or Jeb Bush.
—
>> Follow Matt Wilstein (@TheMattWilstein) on Twitter
Have a tip we should know? [email protected]