Reports: 'Industry Interests' May Rip Apart School Nutrition Standards, Sam Kass Is On It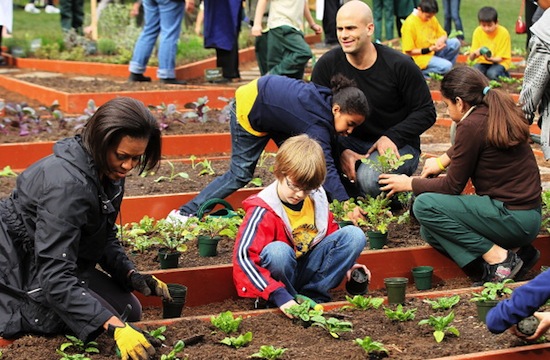 And so is Michelle Obama.
Obama Foodorama discusses the "devastating" proposed changes to the school nutrition rules in depth, thanks to — who else? — House Republicans. An agriculture appropriations bill, introduced last Tuesday, may undo much of the work that Sam Kass and Obama have already set out to do. According to Obama Foodoroma, the First Lady preshad an off-the-record phone call with supporters, urging them to put more pressure on lawmakers to preserve the work of the Let's Move! campaign. From Obama Foodorama:
Approved by voice vote in subcommittee, the House's FY 2015 agriculture appropriations act would alter current nutrition law by requiring the Agriculture Department to grant waivers to schools struggling to comply with the mandates to serve healthier foods–low in sodium, fat, and calories, and rich in whole grain, lean protein and produce–to the 32 million children fed in the National School Lunch Program.

"What the House Republicans have proposed will be absolutely devastating," Kass said, and painted a grim picture of the junk food free-for-all that could go on, saying schools will be filled with "chips and candy bars, and all kinds of unhealthy foods."

"The end result will be dramatically less fruits and vegetables consumed, less whole grain, more sodium consumed," Kass said.

"And junk food continuing to be in vending machines around the country."
Also leading the charge to keep the junk food in is the School Nutrition Association, a (misleadingly named) lobbying group that represents cafeteria workers, food service managers, and food corporations that supply schools. The organization has claimed that schools are having trouble complying to new rules, but Kass says that that's just a falsity. So basically, it's all just going to hell and kids will keep thinking that pizza is a vegetable.
RELATED:
WATCH: Sam Kass Uses His Ridiculously Handsome Face to Tour White House Garden Bees and Kale
School District Refuses Federal Lunch Program Because 'Students Will Not Choose the Food'
Florida Elementary School Stops Giving Kids Mountain Dew Before Standardized Testing
Have a tip we should know? tips@mediaite.com