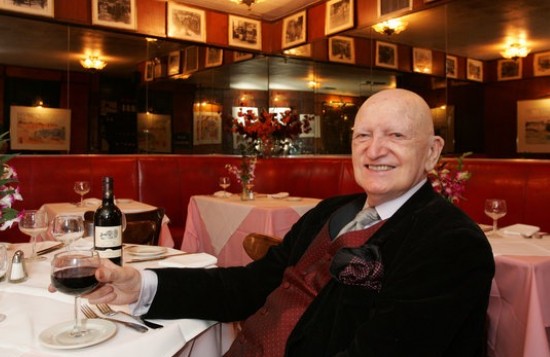 One of the last to have worked under the legendary Henri Soulé, who first brought haute French cooking to America, and the owner of the steadfastly traditional Le Veau d'Or, Robert Tréboux died on Wednesday, reported the New York Times. He was 87.
With his passing, Le Veau d'Or is set to shutter, Gael Greene reported. "At dinner lastyr in nearly empty room,his daughter said she wud close frozen-in-amber Veau d'Or when he died," she tweeted.
But if the restaurant was frozen in amber, Treboux himself had moved through multiple eras of cooking. After immigrating to America and working at the famous Le Pavilion as a waiter, Tréboux owned a string of other successful restaurants in the city before deciding to buy Le Veau d'Or, a small bistro once frequented by celebrities like Orson Wells, Grace Kelly, and Marlene Dietrich, in 1985. Notably, Tréboux refused to change a thing about the menu, and continued to serve classical French cuisine from the time of Escoffier. The restaurant itself, the New York Sun wrote once, seems to have been frozen in the 1940's.
"We want to keep it what it is, which is what people want," Mr. Tréboux told them."They can go to other places that have the plate with the little bit of food in the middle. That's not what people want. They want food."
He was one of the few to publicly sniff at the idea that a chef could be a celebrity — in fact, he and his daughter Cathy have never disclosed the identity of the chef who ran their kitchen. "It's all about the recipes, not the chef," Ms. Tréboux said.
Reflecting his impact on the dining world, anyone who ever cooked or ate in New York City sent their respect for the man onto the internet — even those who became celebrity chefs. "Longtime Keeper of The True Flame," tweeted Anthony Bourdain.
Have a tip we should know? tips@mediaite.com