Can Richard Blais Save the Food Network? A Look At His New Show, Hungry Games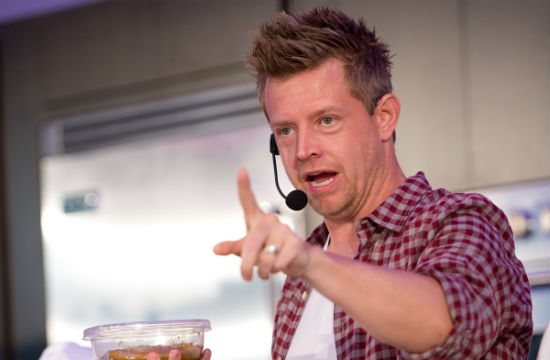 While Richard Blais landed a sweet gig judging on this next Boston season of Top Chef, he landed yet another TV gig — this time on the infamous Food Network. Could Blais, already the master of celebrity chefness (you've hit it big when you shill cat food, we guess?) give the Food Network a winning show?
Well, there may be a fighting chance for the show after all. Blais' new show, Hungry Games, is a mere six episodes, so it seems more that the Food Network and Blais are dipping their toes in the water to see if anything will really stick. But the show does feel very reminiscent of another very smart Food Network lifer and his quirky stuff — a certain Alton Brown, anyone? You tell us who this sounds more like (from the press release):
Throughout the season, Richard Blais investigates the psychology and science behind our food decisions and cravings. In one episode, he learns about the role that expectations play when tasting new foods, by experimenting with an untraditional salmon-flavored ice cream taste test. Richard also explores the surprising power of language to stimulate cravings for a slice of cheesy pizza. He discovers the secret x-factor of juicy burgers, and the irresistible appeal of greasy, salty bar foods. Plus, he gets to the bottom of why comfort food really is so comforting. In another episode, Richard exposes the hidden psychological connection between rooting for a winning sports team and the amount of food we consume during the game. He also discovers the reason why mom's homemade side dishes always taste the best. These mind-blowing discoveries will change the way you think about what you eat!
Allen Salkin, author of the book From Scratch: The Uncensored History of the Food Network (in paperback October 7), says the show signals a new change for the Food Network — a smarter change. "There's a good chance of it being a hit among people who have stopped watching the Food Network," says Salkin. "Whether it's an Neilson ratings hit is irrelevant; it's good for the brand. The show is actually smart looking, something food people like me would actually want to watch."
Salkin says the show makes everything around it look stale, and that the Food Network may have finally "grown up" and listened to the criticism surrounding its shows. "The Food Network educated America and made us all food literate, and then it stopped delivering anything literate," he says. "It brought us to a certain point and then it got off, checked out. But this show just sounds smart…
"I've always continued to hope that Food Network would get smart again. This is the network that put Alton Brown and Good Eats on [the air]. Food Network kept surprising me by not putting smart shows on. But I never lost hope."
And sure, it's very clear that Food Network wants to avoid all mentions of Top Chef and its competitors (aka Bravo) when talking about Blais' new show. ("Top Chef is still a giant thorn in Food Network's side, Salkin says.) But hey, if Food Network can take a gamble and show that smart food TV works, maybe it'll do wonders for Scripps et al. And then maybe get Justin Warner that TV show after all.
[Scripps Network h/t Eater]
RELATED: "Richard Blais Becomes Second Chef This Month to Sell Cat Food
9 Must-Watch, Binge-Worthy Food TV Shows This Fall
Allen Salkin on FN's Culture Crisis: 'The Network Itself Doesn't Know What A Food Network Star Is Anymore'
Have a tip we should know? tips@mediaite.com