From Wendy's To The Big Easy: Rick Tramonto On His Culinary Education & A New Start In NOLA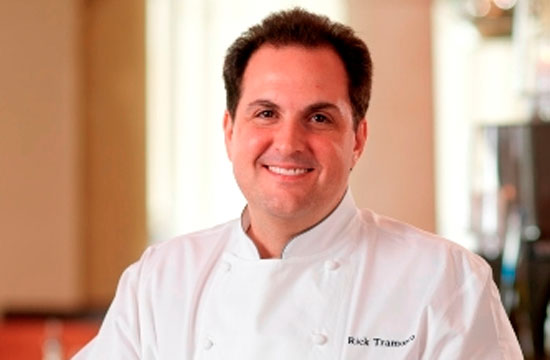 New Orleans was the last place on earth anyone expected Rick Tramonto to open a restaurant — even Tramonto himself. But an unexpected offer from local chef/juggernaut John Folse led the pair to open R'Evolution in the French Quarter last year, to rave reviews. On the one-year anniversary of Tramonto's unlikely collaboration, we sat down with the legendary Chicago chef to talk about continuing his culinary education in the Big Easy, his super-secret involvement in Top Chef, and his love of humanitarian work.
The Braiser: So how did this entire project start?
Rick Tramonto: Me and John had been personal friends for probably fifteen years, so for us, I think it's been a very special relationship. You know once Katrina hit, [John] was the first person I called just to say, 'Hey John, how are you? What can I do for you?' He said, 'Well its not going well, it's pretty bad.' So I said, 'Well, what can I do?' 'Well can you come down and meet people and help with the effort.' So I was on a plane within 24 hours to go down and help him.
…I'd go down to New Orleans all the time and do really cool things. Go frogging and just crazy stuff like that. And you know, again, John has such a great history that I wanted to learn. For me, when I went down to help him with Katrina, I said, you know, we should do something. We have great synergy for food and history and we have a great relationship. It was five years after that he called me and said 'Hey, I have this opportunity. They want me to do a restaurant at the Royal Sonesta, but we can never make a restaurant without Rick Tramonto.'
And I was like, 'Well, thank you.'
And they were probably like, 'Well, of course, that sounds like the greatest idea ever!'
So I flew down and, you know, I was well aware of the entire location. It was like being at the center of the universe. Once I realized the quality and magnitude of the project, it was cool. I've been pretty spoiled in terms of being able to design my own kitchen and pick all my own crazy china and glassware and all that kind of stuff. Once I knew that the commitment was there and the dollars were there to do something spectacular… When you're talking about a five or six million dollar build up for a restaurant… From the ground up, almost. A full gut job, a full remodel. That's exciting. I jumped at the job.  
I have three boys in Chicago… So I had to go back and forth. I still have my home in Chicago and I had my steakhouse in Chicago. I had nine books that I toured. I'd be in New Orleans for a week or two. I'd go home for a week or two. You know, it's a different kind of situation for me, but it works. It works beautifully.
Opening a restaurant in Chicago versus opening a restaurant in New Orleans: what's been the difference between the two of those? And would it have been more difficult for you to open a restaurant in New Orleans had it been "The Rick Tramonto show" with no local team involved?
There was no reason for me to be in New Orleans. First, and foremost, it was my partnership with John. It had nothing to do with anything but my desire, my respect, my love for him. I mean, you're correct, I had no business going down there. Just like John would have no business coming to Chicago to do a restaurant. But together, you know, it's pretty natural.
It's so funny, when you do the history, the connection between Chicago and New Orleans is amazing. I mean, there's a historical train that goes back and forth.  After the slaves were freed in the South, their first stop was Illinois, and they would get on a train to get there. That was when the box lunch was invented. They would have their shoe boxes with their apples and crackers. But people don't realize [that]. People were like 'Oh, Rick's going to New Orleans? What's he doing that for? He's going to do a Creole restaurant?'
[As] far as the history — the Seven Nations, working off the Gulf Coast, the food, the product, and the culture — it was extraordinary.  It was like going to another country for me.
So Top Chef is shooting in New Orleans right now.  I have a couple of question about that —
Ok, but I don't know how much I'll be able to tell you.
I know you're probably…
Yes, they are shooting in New Orleans, and yes we are doing stuff with them.
Ooohh. You are, OK.  First: anything you could possibly spill on that that wouldn't get you fined millions of dollars?
Can't do it!
Pleaaasseee?
Can't. Unless you want to pay the million dollar breach…. (Laughs). But I'll need that in writing.
Since I can't bribe you for secret information: I don't if you've been following the the news that BP's tourism fund was used by the state of Louisiana to sponsor Top Chef. Do you think there are any sort of ethical issues with that? It seems like it's a very grey area to me.
You know that was the first I've heard on it, so I can't speak on it.  What'd they say?
So, every year, a random state tourism bureau ends up paying a couple hundred grand to sponsor Top Chef in their city, and it's a pretty good tourism investment, to be quiet honest. Texas paid $400,000, Seattle paid $375,000. Louisiana, and the city of New Orleans, pooled their resources together and paid Bravo about $375,000 to bring Top Chef to their city.
Wow, I had no idea the cities did that. I had never came across it and I never really thought that. I had just thought it was them going into great food cities.
There's some politicking involved. It's kind of like cities trying to bring the Super Bowl to come there.  But The Times-Picayune found out that the state of Louisiana's fund was established by BP to compensate for lost tourist income as a result of the oil spill.  
Yeah, no, first I've heard of that…I'm not into a lot of that. I don't sit on boards, I don't do a lot of political stuff. If you've done any homework on me or if you just read my autobiography, Scars of a Chef, I'm a pretty different kind of chef when it comes to that kind of stuff. I'm pretty on the ground. I do a lot of charity stuff with my church. You know, I'm more of a youth groups guy, and drug rehab centers, in the South Side of Chicago. I have a heart for that, I have a heart for ministry, so I kinda stay out of all…even a lot the television stuff.
A lot of people say, 'Why don't you have your own television show?' It would be great but at the end of the day, my calling from God is giving back from where I come from. Having battled drug abuse for many years, not graduating high school, my dad going to prison when I was a kid. I do a lot of stuff with prison ministry, so I kinda stay out of all that other kind of stuff.
Do you have any names of people in Louisiana who outsiders should start watching?
For me, my favorite chef — he gets shadowed because he's part of [John Besh's group] — but if you ever eaten at Domenica, check out Alon Shaya. He's my favorite chef in New Orleans. He's just brilliant, an incredible talent. I think he's one of John Besh's partners actually. But I just love his food, I love his philosophy, I love his humanitarian work.  I think a lot of those folks work for a lot of those great chefs. And you'll find some incredible guys. There's a handful of them.
Speaking of that, Tom Colicchio just did an interview where he noted that it was difficult for a chef to step outside what was considered Louisianan, or New Orleans cooking, and gain traction in the national arena. It's weird for a city with a such a rich culinary history to only have a handful of chefs make it big elsewhere. I can count maybe five on one hand. You've worked in Chicago for decades and Chicago has yielded so many renowned chefs, so why do you think it's so hard for chefs to break outside of Louisiana?
I think it's a couple of things. You know, again, like anything, it's hard, the cycle of the times. If you think about it, the last ten years roughly has been the explosion of food television, whether it's the competition and Top Chef, however you want to break that down. I think people who come from a place like New Orleans, who aren't cooking to show off — they cook because it's their life, their culture. They're not trying to show off or get their names in newspapers. It's the love of their history, their family, and they grew up with crawfish boils. They're very unspoiled and connected, real family. There's no 'I wanna be a celebrity chef.' That's what I love about it. They are down and dirty, real folks that are real chefs.  I think the whole state was on hold for five years with Katrina, put on hold again with the spill. There's an amazing culture that when they get punched in the face, or get knocked down, they get back up.
I don't know if I'm answering your question but I think — I'm originally from New York, I started my career in Manhattan, and I've cooked for 25, 30 years in Chicago — from my experiences there, it's like working on Broadway, or being in Hollywood. Everyone's trying to get their break. Then there's those who are like 'I just wanna cook. I wanna cook my own food. I wanna use my local farmers that my dad knows, I wanna going fishing with my grandpa, catch a fish, come home and cook it.' I think the spirit of the whole thing is different.
So I think it was never important enough in certain times. Shame on the press for not recognizing that and shaping [New Orleans chefs] out of it. Now they're starting to go into that environment and discover some great cooks and chefs in New Orleans and Louisiana as a whole.
You caught me when you said that New Orleans chefs haven't really tried to put out their own names, but there's still a huge culture in New Orleans of those grand old restaurants with singular names that everyone around the country knows and wants to go to, but were established way before the 1900s.  
Like Antoine's, and Galatoire's, and all those kinds of places.
Yeah, exactly. Do you think that New Orleans, if it's to really thrive, do you think that it needs a restaurant culture that has those big names along with newer places with national hype?
No. Again, I think that when you go to New York, people used to talk about all the classic restaurants. 'Oh you gotta go to Ma Peche, you gotta go to La Grenouille, you gotta go to Windows, you gotta go to Le Cirque.' There's all those historical cuisines in New York, just like there [are] those historical cuisines in New Orleans.
But just like everything evolving, there's this young generation coming along that either worked in those places and come out in their own, or group up with those places because their family would go there. They are inspired and went to Johnson and Wales or wherever and wanted to be part of the culinary community. So I think it's a combination. I think certainly they are inspiring and respected, and great for tourism, still relevant, but relevant in a different way. To help understand the historical foundation and where it all came from…I think those folks are certainly the fathers of Louisiana culture.
I remember when I first decided to do this project, I bought a house down there, right in the middle of the Bayou, because John said we had to understand the culture and there's no place better to start. And John lives right on the banks of the Mississippi river, and John has an old plantation home called Bittersweet. I got to immerse myself in that culture, and on the weekends I got to go down to New Orleans and walk the neighborhoods and walk the streets and go to all these old restaurants and eat all these old classic dishes, and then go back and study them. It was like going to school. It really was a two-year course.  
And, during the week I got to cook with a professor. I got to cook with John Folse, which was pretty cool. It was like if I had to go to China or Japan and learn that culture and open up a restaurant, but I was working with one of the best Japanese chefs, living outside of Japan and going in during the weekends. So it was a great submersion of the culture for me. It was beautiful.
That sounds like the greatest culinary education.
And it was great. My whole life has been that way. I didn't graduate high school. Didn't go to culinary school. I worked my whole life. I started at Wendy's Old Fashioned Hamburgers in 1977 with a guy named Dave Thomas. My learning how to cook was always as a feel, was always traveling, cooking, and eating, and staging, and going to Europe for four years and working there with Joe Gerard and Raymond Blanc and every side of the kitchen.
The struggle for me though has been my academics. You know I didn't learn how to read until I was 28 years old, if you think about that. I had a very tough time learning how to read and spell and all of my journey was in the field and having people around me that were amazing, amazing chefs, but were, believe it or not, back in the day they were still humanitarian even though they'd throw shit at you. They saw the heart of a kid like me, that I just wanted to learn. I just wanted to know how to cook and get a chance.
This interview has been edited and condensed for length.
RELATED:
John Besh: 'There's No Way Of Sustaining New Orleans Food With A Bunch Of White Guys From The Suburbs'
Adam Richman On Hush-Hush New Projects, NoLa Politics, And Why Audiences Need Him
UPDATE: Treme Creator David Simon & Andy Cohen Trade Barbs Over BP's Top Chef Money
Have a tip we should know? tips@mediaite.com