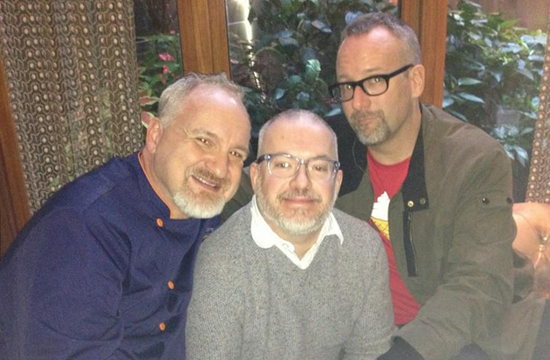 Last year, we brought tell of the Art Smith-hosted Big Gay Ice Cream Social at the South Beach Wine and Food Festival, featuring the iconic Big Gay Ice Cream Truck and its founders Doug Quint and Bryan Petroff. The trio collaborated for a free ice cream giveaway at the James Royal Palm Hotel during the WFF to bring attention to Florida's marriage equality campaign.
Said Doug to the Miami New Times:
"Last year was fantastic. We were very happy with it, especially considering it came together in about ten days! We had lovely ice cream, lots of fun chefs from the festival, and a number of locals came in to enjoy it all. We got nice press for Florida's push for marriage equality… We couldn't have been happier. Where else could someone from Miami hobnob with Anne Burrell and a drag queen, eat some ice cream, and do it all for free for a good cause? Yay!"
This year, Art Smith and Lorena Garcia are collaborating on a treat for the event, and Top Chef Masters alum Jenn Louis will contribute a special ice cream topping.
You can stop by the Big Gay Ice Cream Social at this year's SoBe Wine and Food Festival on Saturday, February 22, from 1 to 4 p.m. at the James Royal Palm Hotel in Miami.
RELATED:
EXCLUSIVE: Doug Quint Spills On The South Beach Big Gay Ice Cream Social
EXCLUSIVE: Art Smith Dishes On His 'Queer For Beard' James Beard Awards After Party
Happy Birthday, Art Smith! Here Are 7 Celebrities Who Should Bake YOU A Cake
Have a tip we should know? tips@mediaite.com