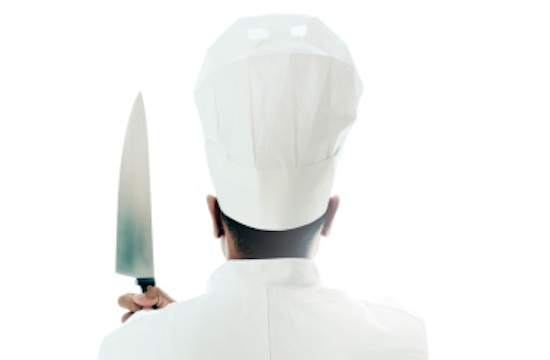 If this isn't the most interesting debate we've seen on chefs in awhile, then we don't know what is. Leave it to the MAD folks to talk it out with us.
MAD asked journalists Eric Schlosser (of Fast Food Nation) and Jay Rayner (Observer restaurant critic) to weigh in on whether or not chefs should "step out of the kitchen" and do some freaking good already. We couldn't have been more surprised by the arguments made by each, so as one of the "shouty voices" on the Internet (so says Rayner), let's talk it out.
First up, Schlosser. He argues that every movement needs a voice, and now that chefs are kinda a big deal, why wouldn't chefs put in their two cents and make some change happen? Citing Alice Waters as the end-all chef-activist, Schlosser encourages chefs to speak up for the broken food system and fix it:
It would be silly to argue that artists, writers, and musicians shouldn't speak out on social issues. Look at any successful protest movement of the last hundred years—workers' rights, civil rights, gay rights, environmentalism—and leading cultural figures have played a guiding role. Now that chefs have a prominent voice in mass culture, why shouldn't they, too? And it's not only chefs who need to get involved in making change. It's every single person you know: doctors, lawyers, nurses, bus drivers, janitors, secretaries, dental assistants, shop clerks, and most of all, people under the age of twenty-five. They have the least to lose and the most to gain in making sure the future doesn't get totally messed up.
Now for Rayner — and yeah, his argument is a doozy. Because localism and the farm-to-table movement synced up perfectly with the rising popularity of chefs, he says, chefs "had found their cause." Only problem? Chefs don't know what the f*ck they're talking about:
[The issue is … ] the belief that there is something specific about cooking in luxury kitchens, in taking massively extravagant ingredients and processing them into finely honed dishes for people with big bank balances, that provides a unique skill set with a wider application.

It really doesn't. Of course, chefs think culinary culture is important. They've dedicated their lives to it. What's more, the Internet amplifies that belief. A few dozen shouty voices can sound like a genuine grassroots movement when it's nothing of the sort. Likewise, there is a culture of exceptionalism, a belief that the current environmental challenges around issues of food security have given the chef a unique relevance, simply because they make their living through food. The reality is that in the battle to feed the coming nine billion, a good recipe for coq au vin is of no use at all.
So either chefs should be doing great things and attempting to change the world, or should maybe just stick to cooking. Maybe. Uh, we don't know anymore — let's keep talking this one out.
RELATED: Here's the Much-Talked About Chris Cosentino Mad4 Talk on the Pitfalls of Food TV
Roy Choi: "We Poisoned Basically the Last 2 Generations" With Fast Food
The Only Tweet You Need to See From the #Mad4 Symposium
Have a tip we should know? tips@mediaite.com