The Only Thing Ello's Good For Is Pranking Your Way to a Job Interview with the Atlantic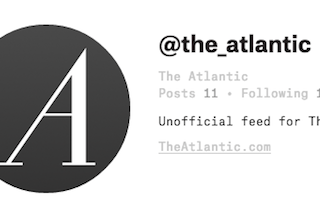 If my circle is any indication you have not been using your Ello account, proving that people would rather complain about Facebook than replace it. But one enterprising youngster has found a use for the unscratched social media network: claiming a potential employer's account before they have a chance to.
Recent college grad Kunal Basu-Dutta used his coveted Ello invite not for his own page but for the Atlantic, which had not yet expanded onto the new platform. But unlike most pranksters, who gain access to a pub's account just to tweet out false news updates or dick pics, Basu-Dutta actually ran the account as if he were the Atlantic's social media editor. He did such a good job that the Atlantic praised his performance in an article wondering who he was.
Basu-Dutta, who sounds quite earnest and well-meaning, copped to ownership of the account, and spoke to the magazine about his unconventional job pitch:
Swearingen: So would you recommend squatting on social media accounts as an effective way of getting your name out there?

Basu-Dutta: Well, I didn't think it would be, honestly. I thought the strategy would be, like, y'all would set up a more official-looking account, post more frequently since you have more manpower, and post every hour like you do on Twitter or Facebook and drown me out. That's what I was kind of expecting. Then I figured y'all would send me a strongly-worded email, like, "Hey, stop fucking around." I never believed this would actually work. I thought, "There's a snowball's chance in hell," but I'll take it.
Basu-Dutta traded control of the account for a job interview with the site. Before you congratulate him on his initiative, imagine a future, not that far away, in which if you have to gimmick your way into a job interview.
[h/t The Atlantic]
[Image via screengrab]
——
>> Follow Evan McMurry (@evanmcmurry) on Twitter
Have a tip we should know? tips@mediaite.com