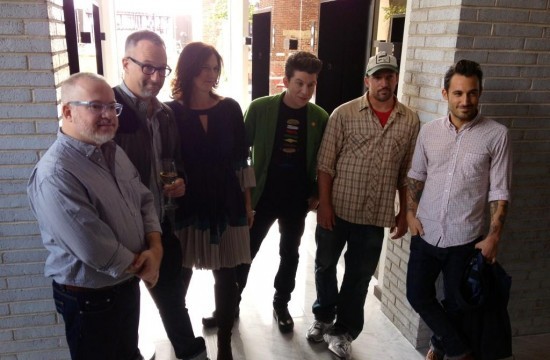 From the outside, it looked so easy for Justin Warner — grab some friends, find a building in Bedford-Stuyvesant, make some foods, get a television deal, be famous. Or the Big Gay Ice Cream Truck dudes: it was ice cream in a truck! How hard could that be? Michael Chernow made some freaking meatballs, and even he admits that "meatballs are, like, awesome." Heck, even Ben Sargent got his start by selling lobster rolls out of his basement.
From these success stories came hundreds of imitators and thousands of dreamers, wondering if they could do the same. At a panel today hosted by Bullfrog & Baum at the New York Wine And Food Festival, however, they quickly swatted down the idea that starting a restaurant is all fun, all the time — in fact, their success had more to do with sheer luck, hard work, and strong balls — Italian or otherwise.
Here are some of their best anecdotes from the panel, moderated by Jennifer Baum, illustrating their strange, quirky ways to the top (and times where Mr. Softee threatened to sue them):
How To Get People's Attention: Justin Warner, the not-lipglossed proprietor of Do Or Dine, has always defined himself as a hustler (in fact, he'd rather be a restaurateur than a chef), which is how he managed to get the attention of The New York Times. Or, rather, he threw his restaurant in then-dining editor Pete Wells's face two days before opening, tweeting to him: "Yo, we open."
"He was like, 'Do you really think that this is the way to go about it?' I was like, 'Wow. He responded!'" he recalled, still shocked. "So I said, 'Uhh– No? Yada, yada–' Then he goes, 'I'll send Florence [Fabricant].'"
Bryan Petroff, on the other hand, credited an article about the truck in an in-flight magazine on Delta Airlines, of all places, with exploding The Big Gay Ice Cream Truck's popularity. "It's not your first thought when it comes to marketing opportunities," he admitted, but his mind changed quickly when he had people from around the world (including a woman from Japan who kept the magazine in her purse for a month) started trying to find them.
Sargent on his former life as a lobster hustler: "I enjoyed that [lobster pushing] wasn't legal. That notoriety, there was so much playing into it. So I think that for me…I think I trust a little bit more in doing things the wrong way. I seem to be someone who thrives on — as soon as someone says, 'You can't do that,' I feel like I have to go do it."
Doug Quint on how much thought he put into the name of the truck: "None. We decided to start the truck, and I thought, you know, I better come clean and tell all my musician friends that I'm doing this. So I started a Facebook page, and we had no idea what to call it, and we called it Big Gay Ice Cream Truck, because it just sounded so fruity at the time. And not only did my friends start joining, all these other people started joining, so [their pages could say] 'Is A Fan Of' "The Big Gay Ice Cream Truck". Most of those people had no idea that it was ever going to be anything in the real world. [Back then,] it was more like being a fan of unicorns or constellations."
Michael Chernow, of The Meatball Shop, on balls: "The meatball thing was a way for us to have a goof. [When we did the investor dinner,] we knew that this thing was going to work because people were, you know, making jokes about balls. If people can laugh about the food that you're cooking, and it's delicious at the same time, then [you're good]."
Justin Warner on agreeing to do Next Food Network Star: "I just like selling food, but once I was on the show I was like, 'I as might as well win.'"
Bryan Petroff on gimmicks: "I think it's about being able to live up to the expectations. It's very easy to say that a kooky brand with a weird name is a gimmick, or a guy who works out of his own home without a license is a gimmick, or a one-item restaurant is a gimmick. But you're only a gimmick the first time somebody comes to you. If they keep coming back, then you're a business. And if they keep coming back, then you're a success."
For those among you who want to follow their path, check out the video below:
Have a tip we should know? tips@mediaite.com