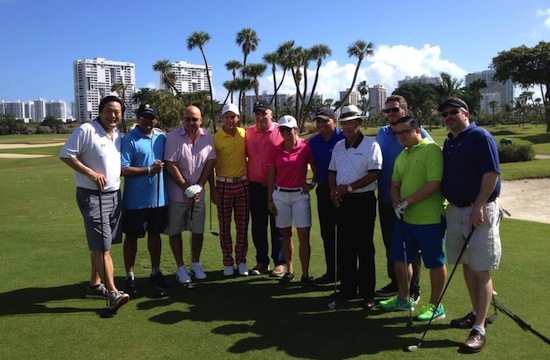 Nothing we love more than to see our chef friends let loose a little. And if you're gonna let loose, it better be in freakin' South Beach, bishes.
They hang by the pool.
A a aah huh pool….day 2… #SOBEWFF pic.twitter.com/DzMtcCmgXH

— anne burrell (@chefanneburrell) February 19, 2014
They go golfing.
Amazing start #sobewff golf tourno. @tislemiami @andrewzimmern @chefmingtsai all my friends Here we go! pic.twitter.com/YYOgf00aoG

— José Andrés (@chefjoseandres) February 21, 2014
They take awkward prom-looking photos.
Cruising through the night with @bourdain @ericripert @francoispayard @andrecarmellini @joebeef @carlahall #sobewff pic.twitter.com/GkZk833gZD

— Daniel Boulud (@DanielBoulud) February 21, 2014
And take lots more selfies. JK, we love the group photos.
"@chef_morimoto: RT "@TandCMiami: @chef_morimoto @gzchef @robertirvine @simplyingrid @JamieDeRosa #KITCHENCOLLAB pic.twitter.com/GT5QMUNKjW""!!

— Geoffrey Zakarian (@gzchef) February 21, 2014
They wonder about some very fundamental truths about burgers.
Alright, over / under on how many @AmstelLight #BurgerBash burgers at #SOBEWFF will feature an egg on top tonight? http://t.co/MifogIdprn

— RichardBlais (@RichardBlais) February 21, 2014
THEY GO TO KARAOKE.
Karaoke tonight! Hope to see my friends @guarnaschelli @chefsymon @Chef_Aaron @MarcusCooks @conantnyc @DanielBoulud #SOBEWFF @ShelborneSobe

— Chef Morimoto (@chef_morimoto) February 21, 2014
They Tweet the awkward moments.
With my boy chef Phet from @khe_yo @ #sobewff he just got asked for an autograph as @davidchang hahaha!!!!! pic.twitter.com/9dRbERkYLT

— Marc Forgione (@MarcForgione) February 22, 2014
And they call South Beach Wine and Food Festival what it rightfully is.
It's like SantaCon but in chef coats #SOBEWFF

— Andrew Carmellini (@andrecarmellini) February 21, 2014
RELATED:
From Our Friends: 2014 SOBEWFF Burger Bash Winners
Art Smith Hosts Second Annual Big Gay Ice Cream Social at SoBe WFF
Anthony Bourdain Turns His Continental Cuisine Nostalgia into a SoBeWFF Dinner
Have a tip we should know? [email protected]