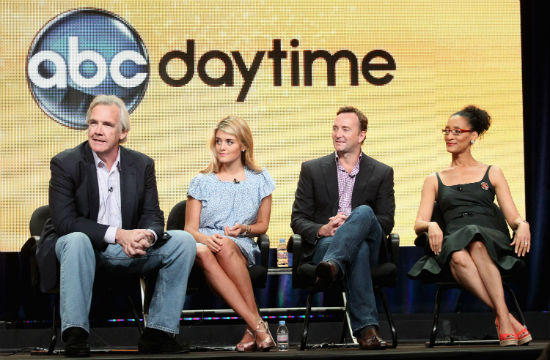 Giving soap opera fans a chance to cool their jets for awhile, The Chew will take over Primetime for one night only this fall! On Sunday, September 2nd, The Chew takes on the prestigious duties of hosting ABC's fall preview special.
Carla Hall, Daphne Oz, Mario Batali, Michael Symon and Clinton Kelly will team up with some of ABC's hottest Primetime stars to take a peek at their new shows debuting this fall, while enjoying a cross-country food tour.
First, Clinton meets up with Vanessa Williams and LOST star Terry O'Quinn to chat about their new series 666 Park Avenue over cocktails and canapes in a Manhattan hotel room. Sounds like the sexiest Craigslist ad ever.
Then, Carla hangs out in her hometown with the stars of Nashville, Hayden Panettiere, Clare Bowen, and Sam Palladio, visiting the Grand Ole Opry and Bluebird Cafe.
Daphne Oz and Andre Braugher will chat oceanside in Oahu, the shooting location for Braugher's new series Last Resort. ABC is really making use out of that old LOST set, huh?
Carla then jets to LA to chow down at Johnnie's Coffee Shop with the cast of The Neighbors, which includes Entourage's Jami Gertz.
And finally, Daphne meets up with now-one-named country star Reba for a food truck crawl to talk about her new series Malibu Country. Yes, we're confused about the Cali/Country mashup, too.
So fancy! We don't know where Mario and Michael are hiding, but we're sure they're coming out to play at some point. Don't miss ABC's Primetime fall preview, hosted by The Chew, on Sunday September 2nd at 8pm.
Have a tip we should know? tips@mediaite.com