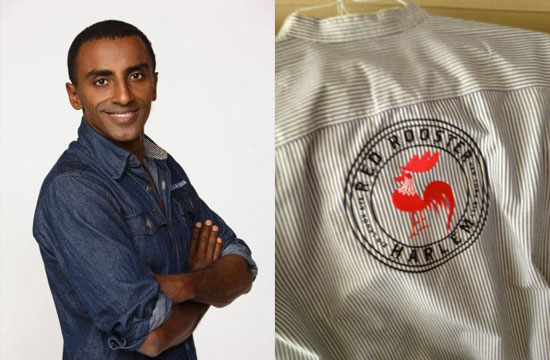 Chef Marcus Samuelsson creates a menu for Black History Month each year at Red Rooster Harlem, but this year it's a bit different: he's drawing on strong female influences from the past, present and future. During February, Samuelsson will be serving a five course $62 menu which, he told The Village Voice will highlight different "goddesses."
Amuse Bouche: Adrienne Cheatham
Adrienne Cheatham is the chef de cuisine at Red Rooster Harlem. She was educated at the Institute of Culinary Education, and was the executive sous chef at Le Bernardin. Samuelsson hopes that someday, she'll be an executive chef, and she worked with him to create the menu. The amuse bouche will be "Miss Adrienne's Macarons," which will be filled with duck liver and aged balsamic, and served with sea salt on top.
First Course: Edna Lewis
Edna Lewis was an African American chef and cookbook author, whose restaurant, Cafe Nicholson was frequented by Marlon Brando, Tennessee Williams, Truman Capote, and Gloria Vanderbilt, among others. She was also well known for her cookbooks on Southern cuisine. The first course on Samuelsson's menu is broiled oysters with sea beans, fennel, and black-olive aioli.
Second Course: CJ Grant
CJ Grant is a badass line cook at Red Rooster Harlem who Cheatham says is "always motivated." The second course will be harred octopus with plantains, chickpeas, and curry vinaigrette. Octopus can be intimidating. The margin of error for cooking it is extremely small, and it's easy to get it wrong. Grant is undeterred, and enjoys making it.
Third Course: Leah Chase
Leah Chase is known as the Queen of Creole cuisine, and has owned her own business since the 1940s; Samuelsson calls her his "idol." Her restaurant, Dooky Chase, which is still around today, was a gathering place for those who participated in the Civil Rights Movement. She's inspired a Disney character, and at 94 years old she's still working it. Samuelsson actually called her "called her to check the menu, and go through it dish by dish…she was so happy," he told The Village Voice. The dish she inspired? Blackened catfish with Creole red beans and turnip greens. Red Rooster Harlem does a great catfish. This should be good.
Fourth Course: Lena Richard
"Lena was the OG of everything," Cheatham told The Village Voice."She wrote and hosted a cooking show that aired during segregation in the South, she founded a cooking school, she had a catering company, and she and her husband owned several restaurants." Course four is beer-braised pork belly with creamed turnips, roasted baby turnips, and smoked vinegar jus.
Fifth Course: Nyesha Arrington
Nyesha Arrington was on Top Chef Season 9, and was one of Zagat's "30 under 30" in 2012. She owns Leona restaurant in Venice, a place you should definitely check out. Dessert, inspired by her, is coconut rice pudding with rum and corn flakes.
As if we needed another reason to love him. Basically, go to Red Rooster Harlem this month.
Have a tip we should know? tips@mediaite.com