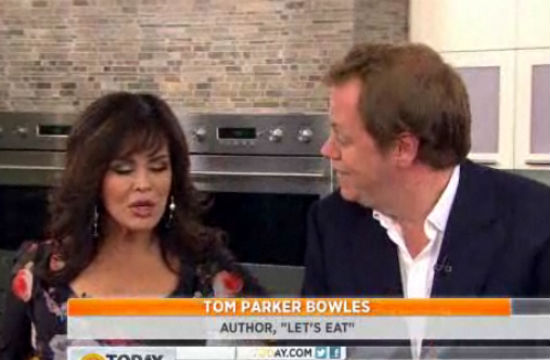 Not only did Marie Osmond start squawking to Chef Tom Parker Bowles (a.k.a. son of Camilla, Duchess of Cornwall) in a cockney accent as he began his cooking segment on The Today Show this morning, but she also destroyed the poor Brit's crab cakes.
The Food Editor of Esquire Magazine made an appearance on our side of the pond to promote his new cookbook Let's Eat: Recipes from My Kitchen Notebook and demo "Proper Crab Cakes."
"Hey, I did The King And I on Broadway, I can do a little bit of Brit!" Marie exclaimed indignantly in response to Al Roker's chuckles.
Unfortunately, Marie was so busy brushing up on her dialect that she missed out on how Tom doesn't use a ton of flour to hold his crab cakes together. As he formed a loose cake and gingerly dredged it in breadcrumbs, she got a little over-zealous with the spatula. No sooner had he carefully placed the cake in a pan of hot oil, than Marie smashed it down with the slotted fish turner as if she was sizzling a Shake Shack burger on the griddle. Of course, the poor crab cake didn't have a fighting chance and immediately fell to pieces.
We really felt for Tom, after watching him so very gently make perfect little fritters (which would have be fine, if you had left them alone). Watch the heartbreaking crab cake murder below.
Visit NBCNews.com for breaking news, world news, and news about the economy
Have a tip we should know? [email protected]