WATCH: Was Top Chef: Seattle's John Tesar Really A Characer In Kitchen Confidential?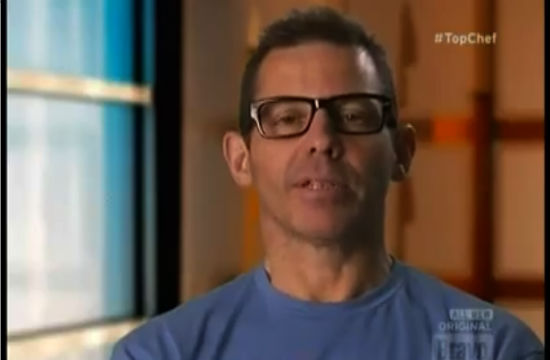 Last night's Top Chef: Seattle was a Top Chef junkie's dream. Contestants were tasked with recreating the most memorable dishes from the past 10 seasons for their Elimination Challenge. Ed's pea-gate pea puree made a comeback, as did Carla Hall's Jimmy Fallon Chicken Pot Pie, and Jamie's scallops.
John Tesar got Howie's Season 3 mushroom and sea urchin risotto, which came out missing the frog legs, prompting a memorable spat between Howie and Season 3 judge Anthony Bourdain.
Why, what a perfect excuse for John to mention that he knows Tony Bourdain (he knows him!) and, in fact, is a character in his memoir Kitchen Confidential! Check out Tesar's story below.
So what's the deal? Could this possibly be true? Good news for Tesar fans (bad for detractors): it's totally factual. John Tesar really was a character in Kitchen Confidential named Jimmy Sears. Later, in Medium Raw, Bourdain wrote:
"Tesar was probably the single most talented cook I ever worked with—and the most inspiring. … His food—even the simplest of things—made me care about cooking again. The ease with which he conjured up recipes, remembered old recipes (his dyslexia prevented him from writing much of value), and threw things together was thrilling to me. And, in a very direct way, he was responsible for any success I had as a chef afterward. …

Looking back at a lot of the people I've known and worked with over the years, I see a common thread starting to reveal itself. Not universal, mind you, but there all too often to be a coincidence: a striking tendency among people I've liked to sabotage themselves. Tesar pretty much wrote the book on this behavior pattern: finding a way to fuck up badly whenever success threatens, accompanied by a countervailing ability to bounce back again and again—or, at the very least, survive."
Sadly, not even a Bourdain endorsement could save Tesar from elimination. After a twist in which he and the other chef on the bottom (Lizzie) had to recreate Season 10's most memorable moment (CJ and Tyler's mush-burger) for a last-minute cook-off, John was sent home. On the bright side, he bowed out so gracefully that we were actually a tiny bit sad to see him go.
…Okay we're over it.
Have a tip we should know? [email protected]