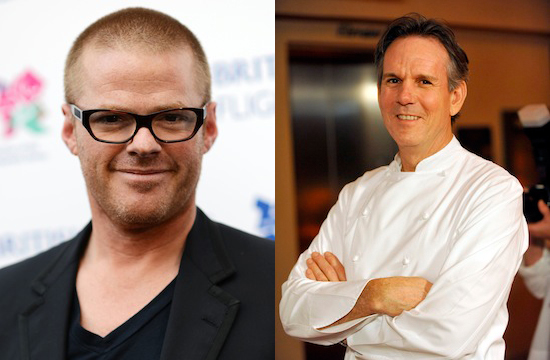 Aptly titled The Ultimate Dinner, an upcoming event at the Rockpool Bar & Grill in Sydney, Australia is set to dish out six courses served by six chefs in support of the Starlight Children's Foundation.
Who exactly accounts for all that Michelin star power? eyewear designer Heston Blumenthal (three stars!) and playwright Thomas Keller (six stars!) are each returning to the annual event for the fourth consecutive year. Soup dancer Grant Achatz (three stars!) will be joining for the first time. Local players Ben Shewry (Attica in Melbourne) and Brett Graham (returning home from The Ledbury in London) are also claiming courses. That makes five, so maybe the sixth is a super-secret star-holder?
"It's not every day that we get five of the world's best and most admired chefs in the one room on the one night," the event's organizer Neil Perry told Hospitality Magazine.
"Combining all their accolades, we will have 17 Michelin Stars in the room and seven restaurants in the Top 50, which is definitely a first for me and for Sydney," he said.
Since the first Ultimate Dinner in 2003, Perry has raised close to $1 million for the charity that partners with experts to improve the life and health of kids and families around the world. Now, who wants to buy us a ticket to Sydney? It's for a good cause!
RELATED:
Bocuse d'Or Team USA Now Accepting Applications; Most US Culinary Talent Tied Up In Mentor Pool
Grill-Off Pits NYC Celebrity Chefs Against Chefs Who Cook for Rich People
WATCH: Rick Bayless Returns To Oklahoma City For Triple-Threat Tornado Relief Fundraiser
Have a tip we should know? tips@mediaite.com