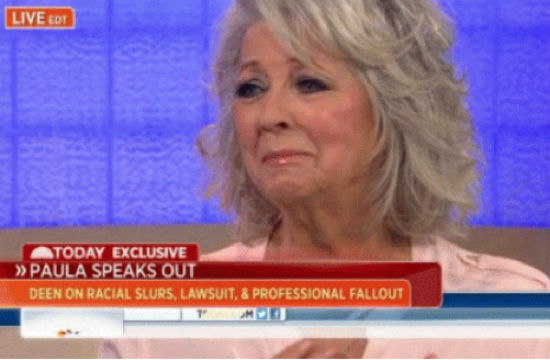 If there's one thing you have time for reading today, it's this post-mortem on the Summer of Celebrity Chef Tabloid Scandals, printed in this month's Vanity Fair, explaining why the public was drawn to watching these mini-dramas unfold on television and in print. It might also answer your biggest question: why the hell do we love reading about the fall of Paula Deen, or the implosion of Guy Fieri's restaurant in Times Square? Is it one step above, or below, being obsessed with Housewives and arrested rappers or NBA player weddings? (At least the author provides a good explanation for the universal love felt towards Nigella Lawson after her divorce this summer.)
Whatever the answer may be, this article might help with catharsis — especially with the observation that for all his bloviating, Gordon Ramsay hasn't had his comeuppance:
At least the Paula Deen and Nigella Lawson controversies are easy to diagram and mentally digest, providing the basic blueprints for really bad docudrama or updating of Greek myth. Trying to keep up with Gordon Ramsay's misadventures is like doing play-by-play coverage of the gladiator pit. Violent oaths, raging curses, the savage clash of warring silverware, the inescapable sight of Ramsay's sandy scowl—Mommy, I'm scared… In his rudest thunderings of alpha prerogative, Ramsay would seem to personify hubris, yet so far his hubris has gone unpunished.
One day, we would like the answer to this, too — see if you can find it in the article below.
RELATED:
Nigella Lawson Allegedly Attacked, Choked By Husband In Front Of Diners
Paula Deen Defends Use Of 'N-Word', Wants Black Employees To Dress Like Slaves (UPDATED: And She's Fired)
Gordon Ramsay Gives Angry Interview While Hopped Up On Painkillers
Have a tip we should know? tips@mediaite.com