Jonathan Swan Confronts McConnell on Support For Trump in Tense Exchange: Where Are Your 'Moral Red Lines?'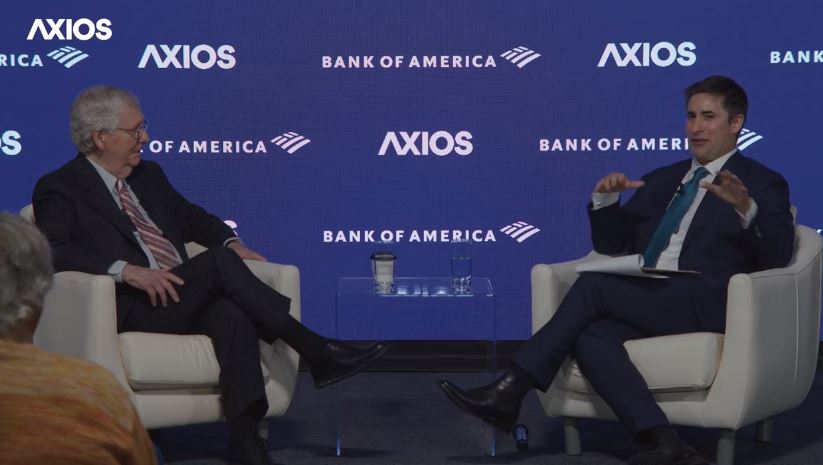 Axios reporter Jonathan Swan grilled Senate Minority Leader Mitch McConnell on Thursday about where he "draws his moral red lines" in an at times tense interview.
Swan noted that McConnell is attributed by many as engaging in a "ruthless style of politics" and asked the top Senate Republican "where do you draw your moral red lines?"
McConnell scoffed at the question and responded in good humor, "I didn't realize I was known for playing a ruthless style, my wife thinks I am a really nice guy."
After a short, but light-hearted exchange eliciting laughter from the audience, Swan doubled down, "Let's just take as a premise, and I think the audience might agree with me, that there are some people, some substantial people who might agree with that assertion."
"So, moral red lines, where do you draw them?" Swan pressed again, as the interview struck a more serious tone.
"Um, I am perfectly comfortable with the way I have conducted my political career and I'd be happy to respond to any specificity to the term, what was it?" responded McConnell.
"Moral red lines," Swan replied.
"Well, I am very comfortable with my moral red lines," added McConnell.
"Let me give you one specific," continued Swan who then asked McConnell about his "extraordinary speech" in which McConnell "spoke very powerfully against the most powerful figure in your party" – referencing McConnell's February 2021 condemnation of Donald Trump following the Jan. 6 attack on the U.S. Capitol.
Swan quoted McConnell's remarks that day — which included saying Trump was "morally responsible" for the Jan. 6 riot and committed a "disgraceful dereliction of duty."
He asked him, "How do you go from saying that to two weeks later saying you would absolutely support Donald Trump if he is the Republican nominee in 2024?"
McConnell responded by saying he believes he has an obligation to support the nominee of his party.
Swan pushed McConnell, saying he can't understand the "inconsistency" in those positions.
McConnell strongly pushed back and cut off Swan, saying, "I don't get to pick the Republican nominee for president, they are elected by the Republican voters."
"I fully understand that, take Liz Cheney for example," Swan replied, before McConnell cut him off and asked, "You want to spend some more time on this as well?"
Swan then noted Cheney (R-WY) and McConnell share the same view of Trump's culpability for Jan. 6, but that Cheney is actively working to keep Trump from returning to the White House.
"Well, maybe you ought to be talking to Liz Cheney," shot back McConnell.
Swan, making his signature befuddled facial expression, replied, "No, but, it's not a gotcha, I am just actually trying to understand is there any threshold for you…"
McConnell jumped in and concluded, "Well, I am sure I say many things people do not understand."
.@jonathanvswan asks Mitch McConnell where he draws his moral redlines pic.twitter.com/is7WZqSuhx

— Axios (@axios) April 7, 2022
Watch the full clip from Axios.
Have a tip we should know? tips@mediaite.com
Alex Griffing - Senior Editor