UPDATE: NORAD Reveals 'Explosion' Sound Incident Over D.C., MD, VA Involved Sonic Boom and Plane Crash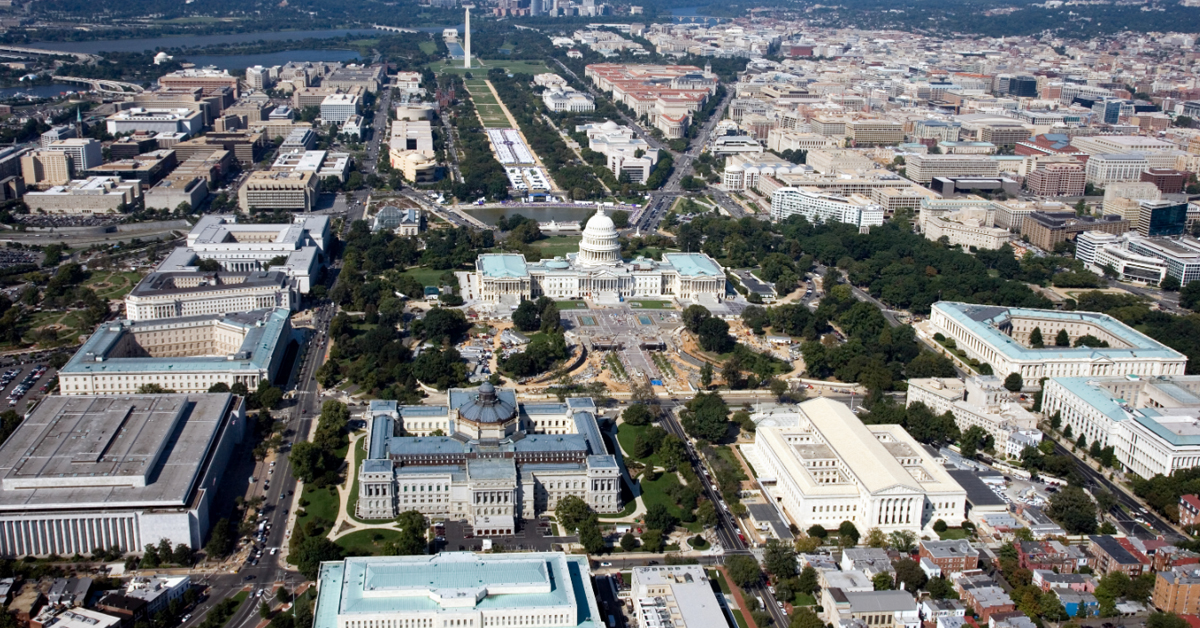 UPDATE: NORAD has issued a statement explaining that the loud boom heard over northern Virginia, Washington D.C., and parts of Maryland was related to an "unresponsive aircraft" incident, with F-16s were authorized for supersonic travel causing a sonic boom, during which incident flares were used but ultimately the aircraft crashed. Full statement at end of post.
–ORIGINAL–
A loud boom heard from Northern Virginia across D.C. and into Maryland caused confusion and started multiple trending topics on social media Sunday. Many unconfirmed reports spread quickly about sonic booms and other explanations, while Homeland Security and several official channels have issued statements that there is no threat.
It has now been identified as a sonic boom from a military aircraft by several official governmental accounts.
Reports that the sound of an explosion was heard in Washington, D.C. began spreading on Twitter on Sunday afternoon, followed quickly by a variety of possible explanations. The leading theory at the time this article was published was a sonic boom from military aircraft.
The Annapolis, Maryland Office of Emergency Management tweeted that explanation.
D.C. Homeland Security reported that there was "no threat" in the area.
Update 4:26pm: Some videos have now made it online with the sound of boom.
I had literally just went to record a video and the boom went off pic.twitter.com/7gPIvri8cC

— Kay🧚🏽 (@KayCezanne) June 4, 2023
My wife and I were recording a song on an iPhone and captured the boom 💥 in Fairfax VA pic.twitter.com/US7Bcfl8b5

— literal mastodon (@Travisagainst) June 4, 2023
Here is the boom as heard in Odenton #boom #annapolis pic.twitter.com/xQ7CrNX5xT

— Darin (@darinepling) June 4, 2023
Original post continues:
Residents in the metro area reported the ground shaking, and Twitter users tracked flight data and other sources to suggest variously that the cause could have been a sonic boom from an Air National Guard flight, a plane crash, a plane being shot down, or even a sonic boom from a meteorite over the area.
Multiple press outlets are working to confirm whether it was in fact a DOD authorized flight, and whether planes have been scrambled from Joint Base Andrews to intercept an aircraft that was not responding, as some on Twitter have suggested. President Joe Biden was golfing at Joint Base Andrews prior to the reports of the boom.
In a likely unrelated but uniquely timed incident, the press pool has reported on an extra security sweep and, during the time of the confusion online over the boom in D.C., that the pool was "diverted" from the president's motorcade.
Update II 4:33PM: City of Bowie in Maryland, in the area where the boom was heard, also confirm that it was a sonic boom, adding that it was an aircraft out of Joint Base Andrews.
We have confirmed that the loud boom heard in Bowie was a sonic boom from a plane out of Joint Base Andrews.

— Bowie Maryland (@CityofBowie) June 4, 2023
UPDATE: NORAD STATEMENT
"In coordination with the Federal Aviation Administration, NORAD F-16 fighter aircraft responded to an unresponsive Cessna 560 Citation V aircraft over Washington, D.C., and northern Virginia on June 4, 2023.

The NORAD aircraft were authorized to travel at supersonic speeds and a sonic boom may have been heard by residents of the region.

During this event, the NORAD aircraft also used flares – which may have been visible to the public – in an attempt to draw attention from the pilot. Flares are employed with highest regard for safety of the intercepted aircraft and people on the ground.

Flares burn out quickly and completely and there is no danger to the people on the ground when dispensed. The civilian aircraft was intercepted at approximately 3:20 p.m. Eastern Time.

The pilot was unresponsive and the Cessna subsequently crashed near the George Washington National Forest, Virginia. NORAD attempted to establish contact with the pilot until the aircraft crashed."
This is a developing story and may be updated.
Have a tip we should know? tips@mediaite.com
Caleb Howe - Contributing Editor