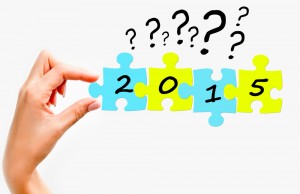 If it's January 1, it must be time for the Rose Bowl, Winter Classic, rehydration for the over served and one of those somewhat-baseless-yet-somehow-(hopefully)-compelling prediction columns. Your friendly comments are always embraced and welcomed below, and for this piece in particular, it would be interesting to not only read your pooh-poohing the following prognostications, but to share a few of your own as well. Deal?
So without further ado…here are your 15 for '15:
At least 10 cable news personalities are forced to apologize for something they tweet… by March.
Phil Griffin is removed as president of MSNBC.
The New England Patriots win Super Bowl 49 over the Green Bay Packers, 27-24.
The Golden State Warriors win their first NBA championship since 1975.
After initial hype, Stephen Colbert–sans Colbert Report character–falls comfortably into the Letterman position, otherwise known as third place after taking over the Late Show.
Al Sharpton's $4.5 million debt to the IRS somehow increases despite phantom payment plan the Rev says he's on. In a related story, activist/host/merger-approver-in-chief breaks Amtrak frequent miles record with 50th trip to the White House as unofficial Senior Adviser to the President.
Barring an economic collapse, President Obama's approval rating will rise to at least 50 percent as 2016 speculation (and tired "GOP-infighting" meme) dominates political news cycle in latter half of the year.
S.E. Cupp returns from maternity leave, continues to be underutilized by CNN.
Sherrod Small officially named Red Eye Friday host.
Ari Melber replaces Ed Schultz at 5:00 p.m. on MSNBC.
Jake Tapper escapes relative obscurity at 4:00 p.m. as The Lead is moved to primetime (10:00 p.m.)
Benjamin Netanyahu will win third term as Israeli Prime Minister.
American Sniper wins Academy Award for Best Picture.
Apple sells 25 million  Watches, making it the hottest new technology of the year.
Ohio Governor John Kasich announces candidacy for president, eventually winning the GOP nomination one year later (a full column explaining why coming soon).
Have a great 2015!
— —
>>Follow Joe Concha on Twitter @JoeConchaTV
Have a tip we should know? tips@mediaite.com