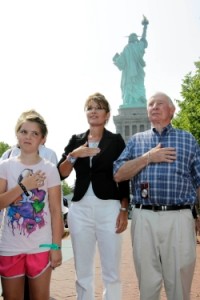 Just in case you hadn't gotten enough Sarah Palin in the past few weeks, MSNBC, Mother Jones and ProPublica are set to release upwards of 24,000 pages of emails from Palin's days as governor of Alaska.
This all began in 2008 when Mother Jones' David Corn filed a request to have Palin's gubernatorial emails made public. Many other members of the media followed his lead and, because Alaska has open records laws, the emails will be available to the public within the next week.
The state of Alaska initially told Corn that they had located 26,552 pages of emails, but are redacting 2,353 pages for unspecified reasons. Along these same lines, Palin apparently also used a personal email address for some of her official correspondence, and while the Alaskan government recovered some of these by looking through the official inboxes of some top officials, it's possible that some communication was done from Palin's personal account and the personal accounts of other State officials.
So these records are probably not totally complete, but if you're still thirsting for more Palin after getting through 24,199 pages of emails, chances are someone will have excavated the additional, personal emails by then.
Says Corn:
Yet any reader who wants to sit in a cozy chair with an iPad or laptop and spend hours upon hours absorbing Palin's e-correspondence – looking for missed nuggets or merely seeking further insight into Palin's governorship – will be able to do so, courtesy of those of us who spent the past two-and-a-half years pushing these records into the open. Here comes some real summer reading.
Will you be reading Palin's emails? Perhaps someone will make them Nook/Kindle friendly and Palin will dominate the bestseller list for summer 2011…
h/t Mother Jones
Have a tip we should know? tips@mediaite.com